Florida military bases hit by Hurricane Ian's destructive Category 4 winds and flooding were assessing damage Thursday as facilities in other parts of the state and the southern U.S., such as Parris Island, closely monitored the storm.
MacDill Air Force Base in Tampa, which ordered a mandatory evacuation on Monday, said it was still examining the scope of damage after Ian passed over Florida's west coast on Wednesday. The base, which sits on a peninsula in Tampa Bay, advised airmen to stay at home, even if their evacuation orders have been lifted.
"We're working quickly to get you back, but need to assess the safety of the installation and roads before we can rescind the evacuation order," MacDill officials said Thursday morning in a statement posted on Facebook. "It is important to remain clear of recovery teams. Do not approach the base."
Read Next: The Army's New Fitness Test Is Here. For Real This Time. No, Seriously. But Its Future is Uncertain.
Storm surges in Key West, Florida, prompted first responders to rescue 61 residents from base housing at the Naval Air Station on Tuesday evening. Officials are still examining the damage, and some residents have since been cleared to go home.
Hurricane Ian leveled an important bridge connecting Sanibel and Captiva islands, crumbled a historic pier in Naples and flooded numerous communities throughout the state after it made landfall in Florida. The full extent of the damage, and the number of people killed, won't likely be known for days and even more havoc is possible as the storm makes its way to South Carolina.
In the early morning hours Thursday, Coast Guard search and rescue operations were underway across southwest Florida, with the service deploying 16 helicopters, six fixed-wing aircraft and 18 rescue boats and crews.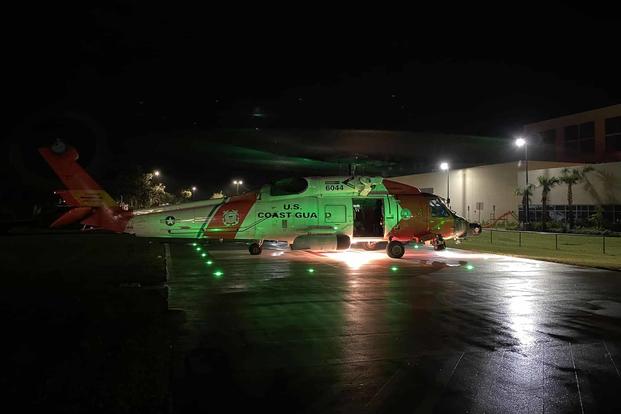 An MH-60 Jayhawk helicopter crew from Coast Guard Air Station Clearwater conducted four search and rescue missions throughout the evening Wednesday, saving seven who either were forced to abandon ship or their vessels had run aground.
More than 5,000 Air and Army National Guard troops from nine states were mobilizing to assist as needed on Thursday morning, according to the National Guard Bureau.
In addition to the Florida National Guard, soldiers and airmen from nine states were planning to deploy or were on standby to assist, including Louisiana, New York, Tennessee, Georgia, Indiana, New Jersey, South Carolina, Montana and Virginia, according to National Guard Bureau Chief Gen. Daniel Hokanson.
In a press release, Hokansan said as of Thursday, the Florida Guard's 146th Expeditionary Signal Battalion was providing emergency communication capabilities to civilians and first responders and had deployed helicopters, more than 1,600 high-wheeled vehicles, boats and fuel tankers to conduct search and rescue operations, clear roads and support law enforcement.
"Our concern is saving lives and getting our folks in there as quickly as possible to make a difference in that critical time to get people out of situations that may be potentially life-threatening to them," Hokanson said.
While early reports had said that "hundreds" may be dead in devastated Lee County, home to Fort Myers and Cape Coral, Florida Gov. Ron DeSantis said Thursday morning there had been two confirmed deaths. DeSantis added that the estimate of "hundreds" likely stemmed from the large volume of 911 calls from residents stranded in homes, and the death toll would not be known until all houses and areas could be searched.
DeSantis added that 26 states were contributing resources to assist.
"The amount of water ... is basically a 500-year flood event," DeSantis said during a news conference in Tallahassee. "We've never seen a flood event like this."
In anticipation of the storm, planes were relocated from Eglin Air Force Base, Hurlburt Field, Jacksonville International Airport, Patrick Space Force Base and Moody Air Force Base in Georgia, according to the Pentagon.
Four littoral combat ships and two cruiser-destroyers from Naval Station Mayport were relocated earlier this week as well as 71 aircraft from Naval Air Station Jacksonville and 11 aircraft from Naval Air Station Key West
All Air Force and Space Force installations in the state were being particularly cautious after Hurricane Michael's Category 5 winds caused an estimated $4.7 billion in damage to Tyndall Air Force Base on the Florida panhandle in 2018. Michael rendered base housing at Tyndall unlivable, and many of the 11,000 airmen and families received permanent change of station orders.
On Thursday, Tyndall Air Force Base issued a statement on Facebook telling service members the base was all clear.
"While the base is no longer in a heightened state of preparedness for the hurricane, members should remain vigilant and ready for a hurricane in the future during this season," Tyndall said on Facebook. "We are thinking of MacDill Air Force Base, Fort Myers and all the areas who have been impacted by Hurricane Ian."
Other Bases Brace for Ian's Remnants
After the movement of ships and aircraft out of Jacksonville, the storm moved out to sea and was predicted to make landfall again near Charleston, South Carolina, on Friday. Officials at NAS Jacksonville asked residents Thursday to remain indoors until the threat of high winds and tornadoes had passed.
"We will let you know when it is safe to go outside," base officials said in a Facebook message.
Military bases along the South Carolina coast, such as Joint Base Charleston and Marine Corps Recruit Depot Parris Island, began making preparations for Ian's possible damage.
The National Weather Service said Ian, which was downgraded to a tropical storm after traversing Florida, will regain strength in the Atlantic and become a hurricane again by Thursday evening. It has issued a hurricane warning for the entire coast of South Carolina.
Joint Base Charleston, which operates the C-17 Globemaster III, began relocating aircraft Wednesday, according to a statement.
"The aircraft are being moved, but there isn't an evacuation order from the base or the state at this time, and an evacuation order for the base is not expected at this time," the 315th Airlift Wing said in a press release.
Parris Island officials said in a statement Wednesday that no evacuation orders had been issued and they planned to go ahead with the Crucible -- the final, grueling 54-hour training exercise for recruits -- and that it should be completed prior to the storm's impacts hitting the coastal base.
As of noon Thursday, the Coast Guard had closed all ports from Hilton Head to Myrtle Beach, South Carolina, in anticipation of the storm.
During an appearance Thursday at the Federal Emergency Management Agency, President Joe Biden praised the response and warned of the work ahead, adding that the federal government would fully fund cleanup and provide funds for reconstruction.
"The governor talked about how impressed he was with the Coast Guard," Biden said, referring to DeSantis's briefing earlier in the day. "These are dangerous missions, and I'm grateful for the brave women and men in the federal, state and local governments working as one team, risking their lives to save others."
-- Thomas Novelly can be reached at Thomas.Novelly@Military.com. Follow him on Twitter @tomnovelly.
-- Patricia Kime can be reached at Patricia.Kime@Military.com. Follow her on Twitter @patriciakime.
Related: At Least 9 Helicopters Damaged, Blown Over in Norfolk Storm