Kyle Mullen was bigger than life.
He stood 6-foot-2 and, as a defensive lineman on the Yale University football team, was elected captain by his teammates. At 24, Kyle was training to become a Navy SEAL at Basic Underwater Demolition/SEAL training, or BUD/S. He was so rock solid with muscle that, at the end of the course's infamous Hell Week -- in which trainees burn tens of thousands of calories, shred every muscle in their body, and leak gallons of sweat for five days -- he still weighed 266 pounds.
Those were the numbers recorded by an Army coroner who examined Mullen's body in February, trying to figure out why he was dead instead of still training to be a SEAL. As the doctor examined Mullen's remains, she found his lungs were almost three times the size of an average man's.
"He wanted to do something other people can't do," his mother, Regina Mullen, told Coffee or Die Magazine.
Mullen died Feb. 4, just hours after completing, or "securing," Hell Week. He was one of 21 members of Boat Class 352 to complete the nearly ceaseless five-day training gauntlet that represents the crux of the SEAL's selection course, BUD/S. Back in the barracks at Naval Amphibious Base Coronado, Mullen called Regina and the two spoke at 11 a.m. that Friday.
Regina remembers the call. "He just said, 'I did it, mom,'" Regina recalls. "And I started cheering, yelling 'Yay!' But even when he said it, he sounded bad."
Though Regina insists she knew nothing about the SEALs or military life before Kyle signed up -- "I can't even look at a gun, it scares the heck out of me," she said -- she had put herself through nursing school at 50, and knew a sick person when she heard one.
"He could not breathe. His voice was ragged, like he was having trouble with the words," she said. "I told him he needed to go to a hospital."
She was right.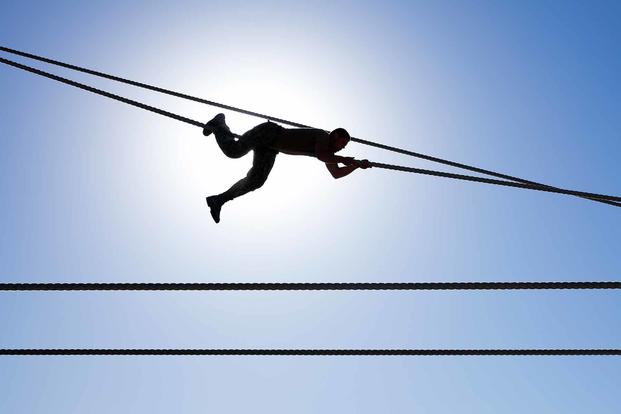 Kyle had completed Hell Week -- even acting as the leader of a boat crew, Regina was told -- with pneumonia, caused by Streptococcus pyogenes, the Army coroner eventually would find. As he tried to recover in the hours afterward, his lungs filled with fluid and he filled a water bottle with bloody sputum, according to the coroner's report. When medics -- civilians, not SEALs, Regina says -- came to the barracks that evening to see after one of his classmates, teammates found Kyle passed out in his room. Medics spent 30 minutes trying to revive him before transporting him to a civilian hospital. The Navy says that at least one of Kyle's teammates went to the hospital that night as well, though Regina says she was told that three others in the class went.
The autopsy report described Kyle's condition this way:
"He was in a wheelchair most of the time, unable to stand and walk on his own. He had reportedly been coughing/spitting up red-tinged fluid which had nearly filled a 36 oz sports drink bottle. One of the other SEAL candidates had [requested] medical attention due to feeling [like] he couldn't breathe. As emergency medical personnel were summoned for that sailor, [Mullen] became unresponsive. When the ambulance crew arrived, they shifted their attention to Seaman Mullen and transported him to the hospital."
Regina describes it another way:
"My son was tortured," she said. "He was lying in the barracks on a filthy mattress on the floor. He should have been in the hospital."
According to officials at BUD/S, the Navy is nearing completion of a formal investigation into Mullen's death. A spokesperson said that investigation could be made public in mid-July.
Until then, said Lt. Cmdr. Kara Handley, a Naval Special Warfare spokesperson, BUD/S and Navy officials could not comment on specifics around Mullen's death.
"Per naval protocol, Naval Special Warfare Command is conducting a line of duty investigation into the events you mention below surrounding Seamen Mullen's death," Handley told Coffee or Die. "The investigation is still ongoing, and I'm unable to provide comment on it until it concludes."
Regina said she has been told that Navy officials will brief her on the results of the probe. She hopes she'll get answers that the Navy did not have when she met BUD/S officials: Why, in the center of one of the Navy's most closely monitored and high-profile training programs, did her son not get the medical attention he needed to keep him alive?
When Regina flew to California after his death, she spoke with the paramedic who treated Kyle. "He said there was blood everywhere," she said.
"Funding for that SEAL program is insane. It's supposed to be so elite, so ha-ard," she says, drawing out the word in a staccato New Jersey accent. "The SEALs are supposed to be the elite of the world. He signed up for hard training. He didn't sign up to not get medical care."
'It Was Just Us'
Regina Mullen raised Kyle and his brother, TJ, in Manalapan, New Jersey, often short on money but never determination or work ethic.
"It was just us," she said. "We never went on vacation, he never had any privilege. He would get, like, 20 bucks for his birthday." But as the boys grew, Regina pushed them to push themselves. "I was a tough mother on him and his brother as far as being all you can be," she said.
Along with the tough love and tough talk, she also wanted to be an example. At 50, she went back to nursing school, surrounded by classmates half her age.
"It's the truth," she said. "I earned my wrinkles."
Kyle grew into a stellar athlete and, to Regina's occasional confusion, a top student.
"I never saw him study a day in his life, but he had a 4.3 GPA," Regina said.
Kyle's combination of athletics and brains landed him at Yale University, where he played football for three years and was elected team captain before transferring back to New Jersey and starring at Monmouth University for a year.
As Kyle left college behind, he kept in touch with a teammate who, like Mullen, had been elected captain at Yale. The man had taken a Wall Street job, the same path Kyle was exploring in job interviews. But after two years of corporate life, the Ivy League banker left to be a SEAL.
"Kyle asked him, 'Do you think I can do it?' and he goes, 'You can definitely do it,'" said Regina. "He didn't want an office job. He was like a little boy wanting to be Superman."
As Kyle worked out to prepare for SEAL training, he'd force Regina to come along on runs.
"He'd get me motivated, he'd say 'Come on, Mom!' because he knew I'd been slacking," she said, laughing at the memory of herself, a middle-aged nurse, panting to keep pace with her Division I athlete and now SEAL-hopeful son. "He ran with a big weight vest on, but I still couldn't keep up."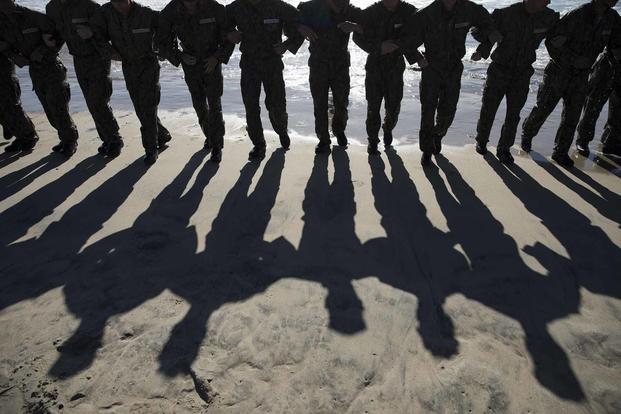 Once at Coronado, Kyle dove into the experience of SEAL training.
"As far as the training, he loved it," she said. "He was getting paid to work out."
Still, he suffered an initial setback, washing out of his first class on the first day of training, Regina said, falling out from heat. He was rolled back a class but was determined to continue.
"He desperately wanted to become a SEAL," Regina said. "He wanted to be with his men."
After Kyle's death, Regina said she heard from the parents of a student in a class above Kyle. When their son had completed Hell Week, those parents told Regina, he was sick in the barracks, unable to properly care for himself, but fearing that if he alerted an instructor, he might be pulled out of training. Kyle had brought the trainee food and drinks, the parents said, and kept an eye on his medical needs as he regained strength to continue training.
When Kyle's own Hell Week came around, Regina knew he wouldn't quit.
"He was never a quitter," Regina said. "I used to say 'I don't quit, I die trying. If you want to do mediocre things, that's on you.'" His class secured from Hell Week at about 10 a.m., Feb. 4, Regina said. Back at the dorms, Kyle tried to call Regina but missed her. She called him back at about 11.
He sounded terrible.
Questions
She asked him to call her on FaceTime, so she could see his skin. He refused.
"One man's dad is a doctor, he did FaceTime with him," Regina says. "He said, 'Your lips are blue, you're going to the hospital.'"
Three other sailors from Kyle's class ended up in the hospital that night, Regina says. The Navy initially said one sailor went to a local hospital.
Regina says SEAL authorities told her that all students received a full medical checkup after Hell Week. Regina doesn't buy that.
"There's no way they did that," Regina believes. "All they did was look him over, patted him on the ass, say, 'Good job, kid.' He had gurgling blood in his lungs. What was the reading [on his vital signs]?"
In the weeks following Kyle's death, BUD/S held a memorial ceremony for Kyle, but Regina says she has grown angrier the more she learns about her son's final hours. In California, Regina says, officials told her that a medic had at some point given Kyle the chance to go to a hospital but he had refused.
"I told him, 'Do you even hear yourself?'" she says. "They are never going to pull themselves out of training."
Regina says she believes the balance required of SEAL training -- pushing through pain and challenges, while avoiding serious injury -- failed Kyle.
"They are constantly telling them, 'Pain is not what you think it is, grind it out, push through,'" she says. "One breath they're telling them to suck it up, and next breath they ask them if they want to go to the hospital? What are you paying your medical team for? You don't know if you have pneumonia. You don't ask these guys -- you tell them, 'You're going.'"
Matt White is the Military Editor for Coffee or Die. He was a Pararescueman in the Air Force and the Alaska Air National Guard for eight years, and has over a decade of experience in daily and magazine journalism. He also teaches journalism at the University of North Carolina at Chapel Hill. Know a story about any aspect of the US military that Coffee Or Die readers need to know? Email him.
Read the original article on Coffee or Die Magazine. Follow Coffee or Die on Instagram.