This is the first story in a three-part series that follows recruits through the first-ever boot camp just for Space Force Guardians. Over three months, Military.com interviewed more than a dozen Guardians, drill sergeants, recruiters and officers, and visited the two-month basic training in Texas to show the new Guardians' path from the recruitment office to graduation day. Read the entire series: Part 1 | Part 2 | Part 3
Maria Pryde was worried about fitting in.
Seven years ago, she had thought about joining the Air Force but couldn't sign up because she still retained citizenship from her native Belarus.
Pryde wondered as her citizenship paperwork was being processed if she was even cut out to serve in the military. And she worried whether she would be accepted by fellow service members, given her unique Eastern European accent, and whether at 31-years-old she would stick out amid the usual crowds of teenagers who decide to enlist.
Read Next: Space Force License Plates Coming to Colorado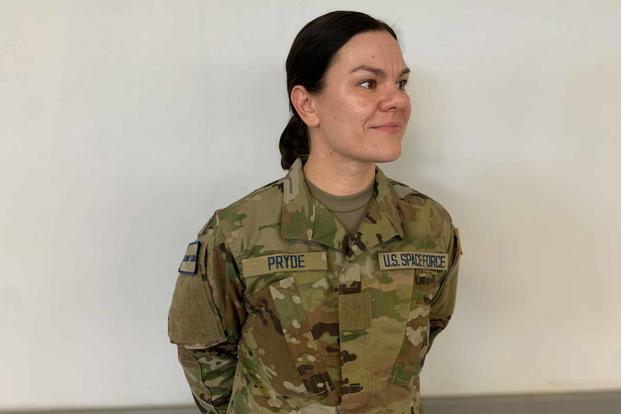 Back in 2019, Pryde saw an announcement on the morning news. There was a new military service branch being created: the U.S. Space Force.
So, with courage and curiosity, she opened the doors to the local recruiting office at the busy corner of Flatbush Avenue and Prospect Place in Brooklyn, New York. with two looming questions for a recruiter: What's the Space Force and why should she consider joining it?
"She told me that the Space Force was hiring women and this was a new elite force that takes the best of the best, and asked 'do I want to be a part of it?'" Pryde remembered. "I couldn't say no to that. I thought it was a very good pitch."
Pryde signed on the dotted line.
She recalled her experience to Military.com on May 2 as she was sitting in a hotel room in Texas. She was texting her friends as she rewatched her favorite Marvel movie, "Avengers: Endgame." She enjoyed precious last minutes with her wife.
"I'm very, very excited, and I'm a little bit nervous," Pryde said. "I feel like maybe this may sound a little stupid, but I feel like I'm in a little bit of a denial. I cannot believe that it's really happening."
The following day, Pryde was shipping out for basic military training at Joint Base San Antonio to become one of 72 Guardians to go through the first-ever independent Space Force boot camp, held from early May until June 24.
In the weeks before they would board a bus to San Antonio, those recruits read about the Space Force online. Some did push-ups and sit-ups, while others imagined what it would be like to have a drill instructor yell in their faces.
Joint Base San Antonio has served as the location for Air Force basic military training for decades. In 2020, it made history when the first seven enlisted Space Force Guardians came to the base alongside airmen and graduated from boot camp.
Now, two years later, the Space Force has a higher goal. It hopes to graduate 72 Guardians over the course of seven and a half weeks.
Military.com spoke with those future Space Force Guardians before a bus took them to San Antonio, then followed their journey through basic military training as they join a service that is finding its footing as it grows its ranks. They'll be the newest and youngest Guardians to be affected by the branch's new policies and fast-changing culture.
Boot camp is the cultural staple in every military branch, and it is the portal that has transformed civilians into service members for generations. Whether it's Parris Island, South Carolina, for the Marines; Naval Station Great Lakes, Illinois, for sailors; or Fort Benning, Georgia, for soldiers, it has become a source of pride, achievement and identity to face adversity in basic training.
The Space Force has heavily mirrored the framework of Air Force boot camp, where recruits march in formation, clean and assemble M4 carbine rifles, and commit the culture and customs of the new service to memory.
Callum Tizard, a 21-year-old from Arizona, was sitting in his hotel room in Texas on May 2, and thought about how daunting the training could be. He talked about how he'd miss driving around his 2011 racing red-colored Ford Mustang and hanging out with his friends back home.
He thought about how he came to that moment and how his future, much like space, was still very unknown.
"As a kid, I was always super interested in just what was beyond our planet," Tizard said. "I remember downloading Google Sky maps and, when I was younger, I was almost on it like every night … And now, here we are. I'm leaving tomorrow."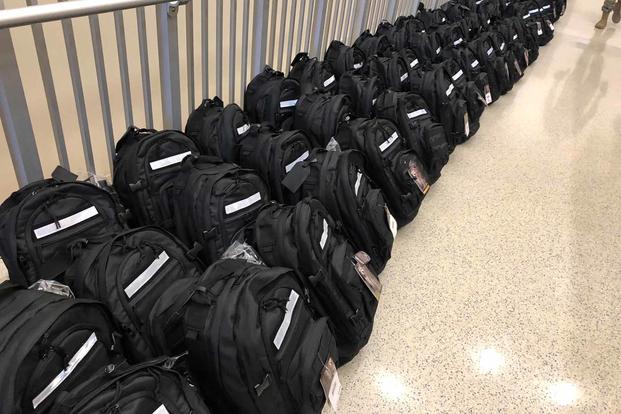 Growing a Distinct Force
When the Space Force was created in 2019, the new military branch relied heavily on the Air Force as an example to help shape its policies. But, now, the service is growing and the 72 recruits will be making history.
The recruits are the first in the service to be overseen by an independent command as they develop into future Guardians. They were trained primarily by Space Force drill instructors and shared a dorm, classrooms and daily life almost entirely with their fellow service members.
The recruits in this class come from California to Connecticut, ranging in age from 17 year olds straight out of high school to the maximum age of 39 year olds with children, mortgages and entire careers behind them.
Pryde isn't the only one who became an American citizen to join the Space Force.
There's 21-year-old Callum Tizard who surrendered his Scottish citizenship so he could join the new service.
There's 24-year-old Sebastian Montesdeoca from New Jersey, a Colombian-born athlete who played college football and became an American whose personal fascination with technology and the future led him into a recruiting office.
And Pryde wasn't the only one who considered joining the Air Force.
There's 18-year-old Jesse Costello from Buffalo, New York, who wanted to be a pilot, but he said a minor hearing issue disqualified him. The Space Force seemed like the perfect opportunity to make his dream of serving in the military come true.
"I was interested in serving in the military, and I knew it was probably going to be the Army or the Air Force," Costello said. "I wasn't able to become a pilot in the Air Force, which was my original plan. … But I'm not going to let that stop me; I'm not going to stop serving. That's my main goal."
None of them had met someone in the Space Force prior to going to their recruiter, and few of them fully understood what they were signing up for. To many in the American public, the service was little more than the title of a poorly reviewed Netflix show and the pipedream of a former president.
But as these recruits began to anxiously Google what it is they signed up for, they quickly realized that America's wars won't just be fought on land, sea or in the sky. The newest battlefield is in space.
A Key Moment for a New Service
The Space Force, a separate service under the Department of the Air Force that mirrors the Marine Corps' relationship with the Navy, had been floated as a concept in Washington since the 1970s. But it wasn't until former President Donald Trump suddenly made it one of his top priorities that it became a reality.
The Space Force's mission -- to protect and defend the massive U.S. satellite fleet -- is crucial in everything from detecting missiles being launched around the globe to managing the country's network of Global Positioning System and communication satellites, which control everything from getting $20 from an ATM to pulling up Apple Maps directions on an iPhone.
The Space Force has the capability to jam other countries' satellites, such as Russia's and China's, and also tracks thousands of pieces of floating space debris that can cause damage to America's satellites or even the International Space Station.
In recent years, Russia and China have conducted weapons testing in space, something that -- in addition to broadcasting their capabilities -- has set a dangerous precedent by spewing wreckage that endangers America's nearby satellites.
Space, unlike terrestrial conflicts, does not have a defined set of rules laying out what constitutes aggression and acts of war. Since the Soviet Union launched the first satellite into orbit in the 1950s, the nearest layer of the heavens has become cluttered with an increasingly crowded field of satellites. Now, on average, roughly 1,000 satellites are launched into orbit each year.
Gen. John Raymond, the chief of space operations for the new service, hasn't minced words when speaking about the importance of the branch. He knows war is in space now.
"One of the things we want to do is design the force to be able to move at speed and to meet the demands that we're seeing today as this domain shifted from a benign, peaceful domain to a more contested, warfighting domain," Raymond told the Washington, D.C.-based Center for Strategic and International Studies think tank in January.
Even with the increasing significance of space, there have been growing pains in setting up a new service from scratch.
Since 2019, the Space Force has worked to develop and field the things that display its independence from the other armed services, from its own uniforms and traditions to slowly absorbing manpower from other branches.
Creating a basic military training program that is unique to the Space Force is a key moment in the service's maturation, and forming a tradition that will stay strong for generations of future Guardians is a daunting task.
The weight of that moment is felt by senior military leaders, but has trickled down to the recruits as well.
"I feel like I have so much to accomplish, like, I need to achieve some unbelievable greatness," Pryde said. "The expectations are very high."
Even as the Space Force matures, many Americans still have a vague notion of what it actually does, in part because it's so new. It's often conflated with science fiction, or the butt of jokes about marching on the moon or shooting lasers at aliens.
It creates a cultural obstacle when pitching the new branch, but Air Force Tech. Sgt. Akilah Trammell, a recruiter for the service, believes there's a certain type that makes a good Guardian.
"It's not the person that you would typically think of, the way that Hollywood presents people in the military," Trammell told Military.com. "It's that guy sitting in the library over there in the corner or it's that young lady who's not popular at her high school. It's just such a different and vast pool of people."
The Guardian recruits interviewed by Military.com had one thing in common: They had a deep interest in science, future technology and the unknown.
"I used to like to watch YouTube videos, and then I really got big into, like, future civilizations and what advancement in technology that we're doing as a whole," said Montesdeoca, the former college football player. "I've really grown to have a fascination for space and what it holds."
Trammell said qualifying for the jobs in the Space Force requires a significantly higher score on the Armed Services Vocational Aptitude Battery, otherwise known as ASVAB. The test determines what military jobs a recruit qualifies for. Many enlisted airmen careers are available with a minimum score around 31, but it will take a score in the 60s to qualify for many of the jobs in the Space Force.
The physical standards in Space Force basic military training are the same as the Air Force, for now. But the service is hoping to become more lenient in the future as it develops independent testing and analysis for fitness.
'Just Come and Be Yourself'
While the Air Force has faced headwinds in recent months to meet recruiting goals, the much leaner and smaller Space Force has more interest from the American public -- so much that it doesn't have enough jobs to offer.
Maj. Gen. Ed Thomas, the Air Force Recruiting Service commander, told Military.com that last year they had more than 42,000 leads on people interested in joining to fill just 500 spots.
"Space Force recruiting is on very solid ground right now," Thomas said.
The Space Force is the smallest of the military service branches. It has grown to 8,400 Guardians since being created in 2019 and is expected to grow by 200 new recruits in 2023, according to the latest defense budget.
Costello, the recruit from Buffalo who initially wanted to be a pilot, knew when he joined that it would be a smaller and leaner force than the other branches he had hoped to enlist in. But that, ultimately, became an appealing factor.
"This definitely seemed like something I'd be interested in doing," Costello said. "Not only just because of how new it is, but being able to have a unique opportunity to serve in the military in a newer program alongside like-minded servicemen and women."
It's not easy to be a woman in the armed services, especially as high-profile scandals of sexual assault, discrimination from superior officers and the stigma of an old boys club attitude in the ranks still ring true.
Trammell, however, managed to recruit Pryde when she walked into the Brooklyn recruiting office.
The recruiter tried to point out that the Space Force was different. It was smaller, it was more accepting and, seemingly, more diverse.
"In a city that's a little bit more liberal, where people are more open-minded, Maria and I had some of those conversations," Trammell said, referring to Pryde. "I think it was a breath of fresh air for her, seeing that she could just come and be herself."
Over the course of seven and half weeks, these Guardians have been pushed to the physical limit as they march in the Texas heat. They've bonded with strangers as they become brothers and sisters in arms, and they've memorized the new ranks and customs of the Space Force.
There have been trials along the way.
Not everyone will graduate and, with confusing guidance from the new military branch, one will wonder until the very end whether they're going to be able to complete training. A few Guardians will strain to meet the physical standards as the rules they're being judged by seemingly morph during their training. A few of the recruits will have taken the weight of isolation from the outside world to heart as the war in Ukraine rages overseas and a violent school shooting in Uvalde just 80 miles from base shocks the nation.
And as the service begins to shape its boot camp traditions and structure, it also looks to the future where the Space Force could someday part ways with the Air Force's basic training in Texas and find a new home for itself.
-- Thomas Novelly can be reached at thomas.novelly@military.com. Follow him on Twitter @TomNovelly.
Related: Space Force Guardians Grow Exasperated Waiting for the Branch's Policies to Slowly Emerge