This week, the U.S. military remembered the 78th anniversary of D-Day, the Allied amphibious invasion of Nazi-controlled France during World War II. Five Marines died in an Osprey crash in southern California on Wednesday, the second fatal crash for the platform this year and one of three fatal aircraft crashes in a week. Two years after Iran launched missiles at Al Asad Air Base, Iraq, in January 2020, members of the National Guard finally received Purple Hearts for traumatic brain injuries sustained from the attack.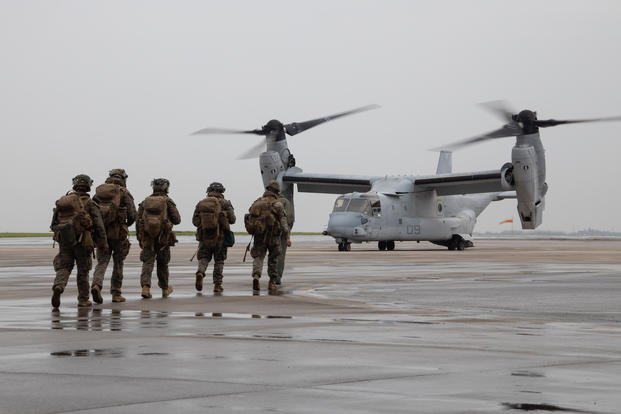 Marines with 3rd Battalion, 2nd Marines, board an MV-22B Osprey for an insertion exercise from Okinawa to mainland Japan on June 9, 2022. (Lance Cpl. Lorenzo Ducato/U.S. Marine Corps)
Related: 5 Marines Dead in Osprey Crash, Second Fatal Incident for the Aircraft This Year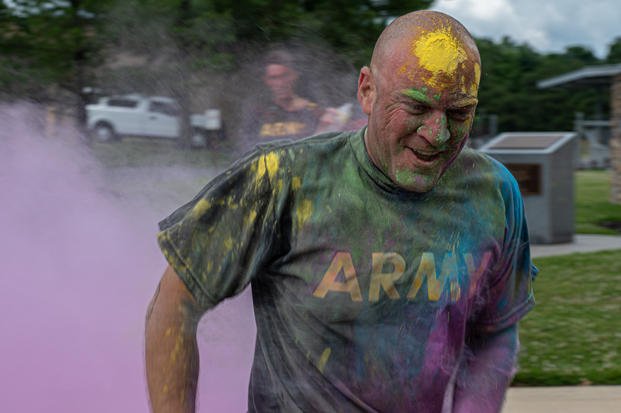 A soldier with the New Jersey Army National Guard runs through the finish line during the Pride 5K Color Walk/Run on Joint Base McGuire-Dix-Lakehurst, New Jersey, on June 9, 2022. (Airman Simonne Barker/U.S. Air Force)
Related: Pentagon Holds First Gay Pride Event (2012)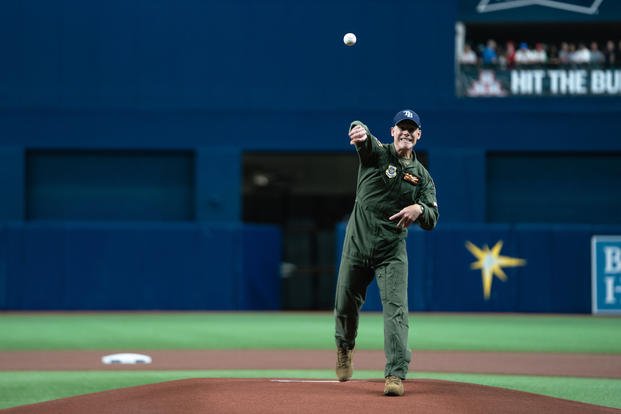 U.S. Air Force Col. Benjamin Jonsson, 6th Air Refueling Wing commander, throws the first pitch at a Tampa Bay Rays baseball game on June 8, 2022. (Caption & Photo: Airman 1st Class Joshua Hastings/U.S. Air Force)
Related: Military Discounts for Major League Baseball Games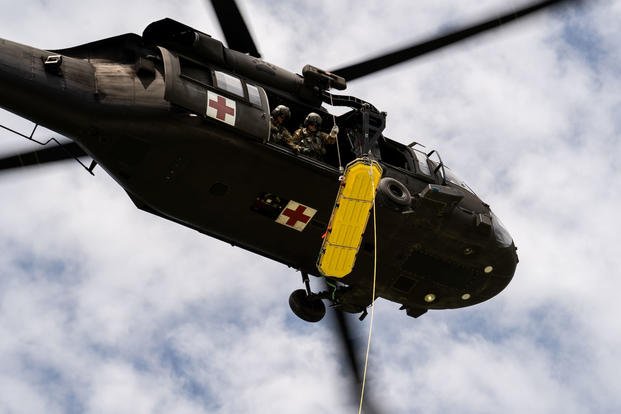 The Missouri National Guard MedEvac Team lifts a casualty in its Black Hawk helicopters during a MedEvac training exercise at Camp Clark in Nevada, Missouri, on June 7, 2022. (Caption & Photo: Staff Sgt. Audrey Chappell/U.S. Air National Guard)
Related: WWII Fighter Pilot Reunited with Plane at Georgia Airport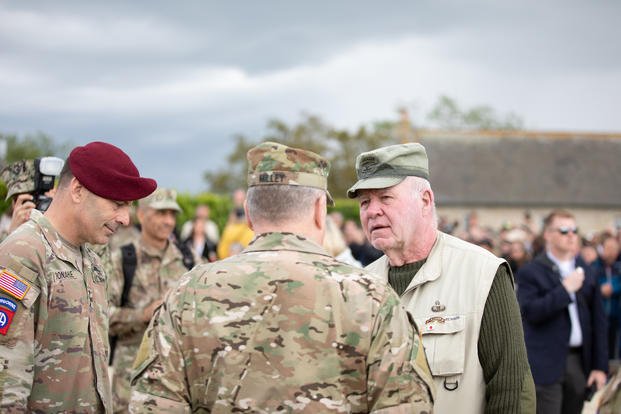 Gen. Mark Milley, chairman of the Joint Chiefs of Staff, and Lt. Gen. Chris Donahue, commanding general of the XVIII Airborne Corps and the last American service member to leave Afghanistan after 20 years of war in the country, speak with veterans at the 82nd Airborne Division's D-Day ceremony in Normandy, France, on June 6, 2022. (Spc. Vincent Levelev/U.S. Army)
Related: D-Day: Perhaps the Most Pivotal Day in World War II
BONUS VIDEO:
-- Drew F. Lawrence can be reached at drew.lawrence@military.com. Follow him on Twitter @df_lawrence.