LVIV, Ukraine -- The echo of excited voices bounces off the arched ceiling of a blue-and-orange gymnasium in Lviv, Ukraine, as dozens of volunteers pool around tables. Every day starting at 8 a.m., Ukrainian officials sit, hurriedly scribbling down names and details, waving to the next recruit to step up. There isn't much time. Hundreds more potential fighters are already waiting outside for the chance to join, some returning day after day after failing to make it through the lengthy line.
The ranks of Ukraine's 25 regional Territorial Defense Forces have surged since Russia began its invasion of the country earlier this year. As a reservist branch of the Ukrainian Armed Forces, this regional battalion was designed to be deployed as a last line of defense against invading Russian troops if the national military is unable to hold the line, an outcome that had already happened in some destroyed towns in the north, east and south of the country.
In western regions like Lviv, the new home of hundreds of thousands of displaced people fleeing the devastated east, militia recruitment centers are buzzing with new recruits and nonstop training sessions.
Read Next: $1.3 Billion Hospital, DoD's Newest, Still Without Drinkable Water
Gingerly handling a rifle or bazooka thrust into their arms by an instructor short on time, recruits at the gym pause to feel the weight and shape of the new weapon before looking down to make sure their fingers are positioned to pull the trigger. Most of the men and women of the Territorial Defense Forces have never shot a gun before and are expected to learn quickly. The recruitment center has held training sessions for new fighters all day, every day since the war started.
One nearby group is crammed into a dim hallway, pointing at the various, laid-out parts of a disassembled mine, while asking a veteran to explain more details about how to safely exit a minefield. A larger group makes a semicircle outside around an officer adeptly loading and then disassembling a Soviet-era Kalashnikov assault rifle as he shouts out each step. Another group of soldiers in the field shows more than 50 trainees how to use tactical teamwork to stay safe under fire. And in an old amphitheater, a rapt audience of new recruits listens to newly minted combat medics demonstrate battlefield medicine techniques without having the supplies to practice for themselves.
Just over five weeks after the start of the war, tens of thousands of Ukrainian soldiers and civilians have been killed as entire cities like Mariupol have been destroyed by Russian bombardment. International leaders have accused Russian President Vladimir Putin of war crimes and, more recently, genocide. As a result, hundreds or thousands of Ukrainians have dropped everything to take up arms with these local militias in what many see as anything but a choice.
And although Russia said earlier this month that it had completed the initial phase of its military operation in Ukraine, Ukrainian officials and many international experts are doubtful that these promises will end the war. Reports show that Russian forces have retreated from Kyiv and some central towns, but shelling has continued across much of the country and intensified along the eastern borderlands. Russia recently mobilized another 60,000 reservists and installed the "Butcher of Syria," Gen. Alexander Dvornikov, to lead the invasion. The worst could be yet to come.
"What was I supposed to do?" asked Andre, a skinny 29-year-old student with curly, brown hair and a quick smile, as he eagerly watched a demonstration about how to load an AK-47. "I need to stand up like everyone else," he said with conviction, diverting his eyes to the ground before quickly looking back to the hypnotizing display of the pro's seamless assembly of the Kalashnikov.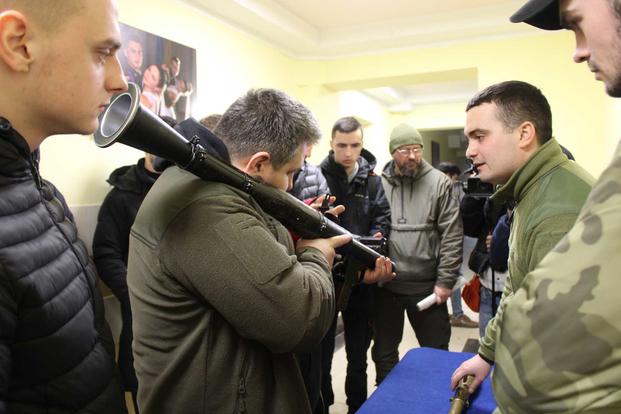 Each of the regional militias is made up of tens of thousands of former teachers, IT professionals, doctors and other civilian professionals determined to do everything they can to stop the invasion of their country. Although Ukraine's military is the biggest in Europe, it is still about five times smaller than Russia's and significantly less equipped, even with the recent deluge of weapons sent by Western countries since the start of the war. Many experts point to the indelible resolve of the Ukrainian people, especially its military and endless number of volunteer fighters, to explain how the small nation has been able to withstand the invasion for so long.
Most of the recruits are men aged 18 to 60 who, as part of the country's general mobilization announced by Ukrainian President Volodymyr Zelenskyy on the day the war began, had to report for service or sign up for the draft. They were also forbidden from crossing the borders. "Now my country needs me to be a soldier. There are no other options," Andre said, staring ahead.
Stories like Andre's are common, but not all recruits fall into this category.
Thirty-seven-year-old Oksana is a rheumatologist turned informal combat medic who joined the Territorial Defense Force in the week following the first strikes. Almost every day since then, she drives her three young daughters about 15 miles outside of Lviv to her parents' home, where they are less likely to be hit by surprise shelling, she says. Then she drives back into town and climbs the stage of the auditorium to teach tactical medicine to dozens of fresh-faced recruits eager to learn survival skills before getting sent out to the battlefield.
"I never expected to be in this position -- responsible for teaching soldiers how to stop major bleeding or wrap wounds with shrapnel still lodged inside," she said tiredly, with just a hint of sadness in her voice. "But we are all doing what we can now to end this war and protect our country."
With bright white hair and thick glasses, 55-year-old Volod also joined the battalion last week. Ordinarily a high school teacher, he knew that problems with his heart would prevent him from serving in a squadron but hoped his military experience from decades ago could still be put to use. In the spirit of leveraging every available resource, officials decided to make him an informal trainer of tactical formation and weaponry -- two areas of combat that have changed little over the decades since he trained under Soviet military tutelage.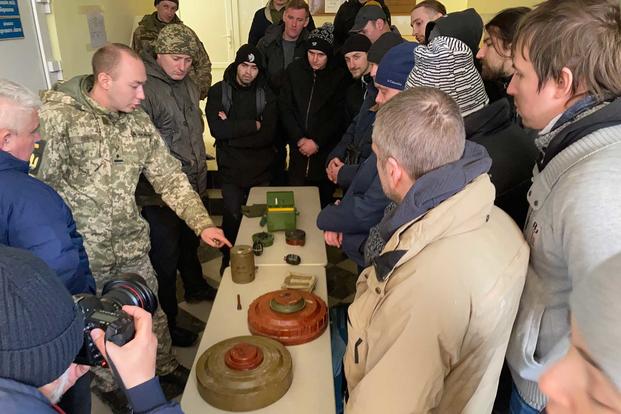 "This war has united our country," he said proudly while surveying the hundreds of people clumped in small groups across the courtyard learning the profession of arms. His 29-year-old son is also a member of the Territorial Defense Force, but he has already been mobilized and sent to the front in the southeastern city of Kharkiv. "The world should support us as much as they can and treat Ukraine as a member of Europe," he added, pausing for a moment as the first show of emotion started coloring his cheeks red. "We are not different; we are all the same."
With a population of between two and three million people, the region of Lviv has been mostly spared the death and destruction experienced in other parts of the country until now. Bordering Poland to the west, the capital of the region is only about 35 miles away from the deconfliction zone set up by NATO, along with its 130,000 troops meant to dispel any chance of a spillover of the war into the European Union.
That hasn't stopped the Kremlin from testing those limits, however. First, there was a deadly strike that killed 35 and wounded 150 on the former NATO training center in Yavoriv, about 30 miles west of Lviv, that had been housing weapons brought in from western Europe and thousands of military recruits, including hundreds of foreign nationals from the International Legion.
The legion shot to international fame when Ukrainian leaders began pleading for military veterans to come join the fight, and is now made up of tens of thousands of volunteers from around the world. In March, Russia denounced the group as "foreign mercenaries" who were unworthy of protection under the Geneva Conventions as soldiers. Despite the news coverage, the Legion makes up only a tiny fraction of the forces fighting to repel the Russians.
The United Nations has reported that more than 10 million Ukrainians have been displaced due to the war -- about one out of every four citizens. Officials estimate that at least four million people, including 50% of the country's children, have fled into neighboring countries like Poland, Slovakia and Hungary, and further into Europe.
Ukrainian troops and civilians have said again and again how grateful they are to the international community for the billions of dollars in weaponry and humanitarian aid that has already been sent to the besieged country since late February. Many soldiers know which country has given which weapons to Ukraine, specifically thanking the U.S. on more than one occasion for the Javelins and Stingers that have helped the country repel some devastating air raids.
But it's not enough, they say.
"We are not only defending Ukraine, but the whole world," said Taras Ishchyk, communication adviser of the 103rd Brigade of the Territorial Defense Forces. "The West is afraid of starting World War III by directly engaging with Russia, but they don't understand that WWIII has already started today, in Ukraine. Tomorrow it will be in your country."
He noted how the war has already disrupted energy supplies, food systems and political stability across the planet.
"We don't expect you to fight our war for us," he clarified. "But we need the international community to help us close the skies.
"You risk genocide," he said heavily.
Editor's note: This story has been updated to correct Russia's characterization of the foreign fighters. Katie Livingstone is a freelance correspondent currently reporting from Ukraine and Eastern Europe. A graduate of Medill and Wellesley, her work has appeared in Foreign Policy Magazine, Rolling Stone Magazine, USA Today, UPI and more. Katie speaks five languages and currently lives in Washington, D.C.
Related: US Troops to Train Ukrainians on Howitzers and Radars to Fight Russia in Major Shift