Marine veteran Tiffany Hudgins worked with Afghan women when she served in the military, trying to set them up with opportunities in a culture dominated by men.
She was teaching those Afghans more advanced sewing techniques when she was injured by an improvised explosive device while patrolling with 1st Special Forces Group. It left her with a traumatic brain injury and changed her life.
Then, she discovered competitive archery. It sharpened her mind, reduced stress and required her to maintain athleticism -- all critical elements to balancing and maintaining mental health following a traumatic injury. She is now among the U.S. veterans competing in this year's Invictus Games, an international competition for the wounded that will be held in the Netherlands.
Read Next: VFW Posts Are Dying. They Need Hesitant 9/11 Vets to Fill the Void.
"It's mindfulness, PTSD recovery, anxiety, stress -- every arrow is its own thing. It's rehab for a lot of people because you have to focus on something," Hudgins told Military.com on April 8 while preparing for the games at Fort Belvoir, Virginia.
Hudgins previously earned gold medals in women's archery while representing U.S. Special Operations Command, or SOCOM, in the 2018 Defense Department Warrior Games. Now, she is competing in the Invictus Games, the paralympic-style athletic event founded by the U.K.'s Prince Harry, who served in the military for a decade.
Hudgins is currently a Women, Peace and Security adviser for SOCOM.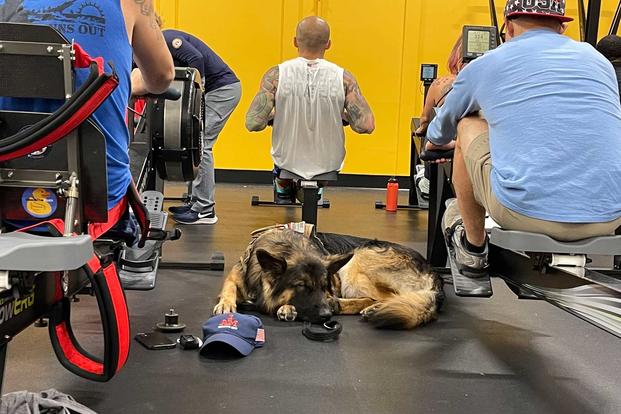 The games are set to kick off Saturday and will host a number of events, such rowing, archery and powerlifting. Roughly 70 veterans and active-duty troops will represent the U.S. The biennial event was originally set for 2020 but was delayed due to the pandemic.
"Nobody has any excuse to not be fit; you've had two years," Prince Harry said when speaking to the United Kingdom's team.
The games, like other athletic events, serve as a tool for veterans and service members injured during their military careers to find a sense of community and an avenue to maintain their own physical and mental health.
"If your focus is on how you get through the day, maybe that can involve drugs or alcohol, because of bad sleep or something else bad that happened. You can probably pick up a box and narrow your focus to a manageable place," Hudgins said about the effect of competing.
Providing adequate mental health for troops and veterans has long been a struggle. The Defense Department has been unable to hire and deploy enough mental health professionals for all service members to have easy access.
Military leaders and veteran advocates have for decades sought to reduce one of the most tragic tolls of mental health issues -- suicide, which has remained an epidemic during the post-9/11 period. Some military leaders have been hoping to identify red flags early on through team and squad leaders.
Some studies suggest veterans are more prone to eating disorders and obesity, which can domino into mental health issues. According to the Department of Veterans Affairs, 78% of veterans are overweight or obese, compared to nearly 35% of the general population.
Part of the solution may simply be athletics and keeping the mind actively engaged, according to Invictus Games competitors and the Army.
"I think keeping the body in motion helps you mentally, just getting out and exercising," Sergeant Major of the Army Michael Grinston, the force's top enlisted leader, told Military.com. "Whether that's jiujitsu, running or cycling, it's a great stress relief. It has helped in all my stressful times."
The competition of the games has given veterans the opportunity to overcome their injuries while focusing on their training.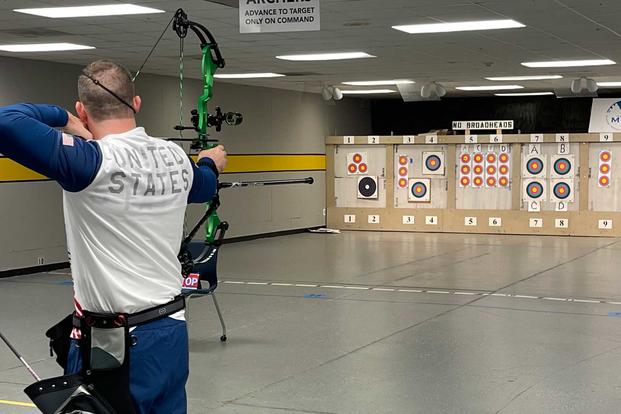 Air Force veteran Brett Campfield is another archer on Team U.S. He served as an explosive ordnance disposal technician in Afghanistan. He lost his right eye and had to train himself to shoot arrows left-handed.
"When you lose an eye, people ask how to adapt. And the answer is I just did, because I had to," Campfield said. "I'm lucky my injury is very cut and dry. I had two eyes, now I have one. I'm lucky that I don't have PTSD or a lot of stress compared to other people whose journey is much more difficult."
Editor's note: This story has been updated to correct the name of the team.
-- Steve Beynon can be reached at Steve.Beynon@military.com. Follow him on Twitter @StevenBeynon.
Related: Pentagon Orders New Suicide Panel to Look at Alaska and 5 Other Bases