The Navy has identified the sailor who was the sole fatality in Wednesday's crash of an E-2D Advanced Hawkeye aircraft off the coast of Virginia.
Lt. Hyrum Hanlon, assigned to Airborne Command and Control Squadron (VAW) 120 out of Norfolk, Va., died when the plane crashed near Wallops Island and Chincoteague, Va., on Wednesday, a Navy press release announced Friday.
Hanlon had almost five years in the Navy at the time of his death. He was commissioned out of Arizona State University in May 2017 and reported to VAW-120 late in January 2021.
Read Next: Ukraine Aims High with Request for F-15 and F-16 Jets. Here's Why It Probably Won't Happen
Hanlon's commanding officer, Cmdr. Martin Fentress Jr., called the perished sailor courageous and patriotic before adding that he "will be truly missed by his family and the Hawkeye community" in the press release.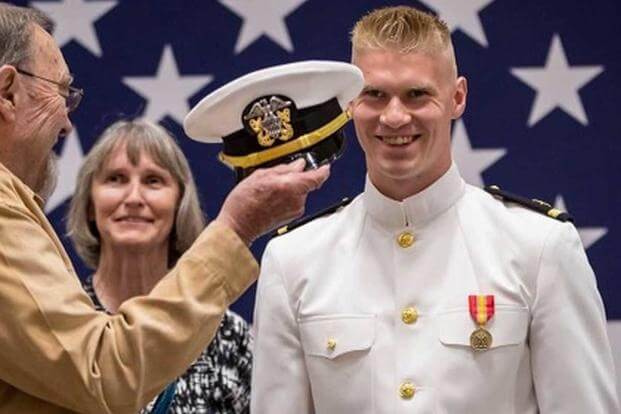 The Navy announced the crash shortly after it happened around 7:30 p.m. Wednesday, with two of the plane's crew rescued by the U.S. Coast Guard and treated for non-life-threatening injuries.
Hanlon was found dead in the aircraft that evening, the statement noted without identifying him.
The Navy said the crew was conducting "routine flight operations" at the time of the crash.
Adm. Mike Gilday, the Navy's top officer, said the Navy grieves "for the loss of our U.S. Navy shipmate" in a tweet Thursday. "To the two injured Sailors, we wish you swift healing. We have the watch," Gilday added.
The Navy noted that it is working with state and local officials on plans to salvage the crashed aircraft.
"The health and safety of the local community is a top priority during recovery efforts; overflight aircraft confirmed no pollution or discharge of fuel in the area," Friday's press release said. A statement released Thursday noted that "all reports indicate that the fuel tanks on the aircraft remain intact, with no concerns to public health."
The cause of the incident continues to be under investigation.
-- Konstantin Toropin can be reached at konstantin.toropin@military.com. Follow him on Twitter @ktoropin.
Related: US Navy Names Ship After Late Justice Ruth Bader Ginsburg