The 36-year-old Afghanistan war veteran can't be left alone with his kids because his hallucinations and outbursts make him a danger to himself and others. He must be handed his medications, or he'll forget to take them. He doesn't drive or work. Or manage his finances, having once spent thousands of dollars in a wild shopping spree while experiencing mania.
Still, the former Army sergeant has not been hospitalized for mental health issues in nearly five years -- an achievement he and his wife attribute to her providing around-the-clock care for him, supported by the Department of Veterans Affairs' Program of Comprehensive Assistance for Family Caregivers.
In addition to providing health care coverage and community support, the program pays the veteran a stipend that allows the wife to care for him instead of hiring a home health aide.
Read Next: VA Wants to Make Telephone Appointments for Mental Health Care Permanent
But in the past month, the couple, who live in South Carolina and requested anonymity so they could speak freely about their situation due to concerns about retaliation from their VA caseworkers, learned they no longer qualify for the benefit.
They are not alone. With the VA conducting reviews to ensure that participants meet new eligibility requirements introduced last year, as many as 6,000 people may find out this month they no longer will receive the caretaker support some have relied upon for years as they manage the residual wounds of war that continue to shape their lives.
VA officials say the new eligibility rules were introduced to comply with a 2018 law that expanded the program to severely injured veterans of previous wars whose loved ones have cared for them for years without any compensation. By changing the eligibility requirements while expanding the groups of veterans who could apply, the idea was that veterans from past conflicts could get the help they needed without radically increasing the cost of the program.
They said the program now provides consistency and will be fair and equitable for all.
Cost played a role, as well. During a hearing on the issue in 2018, then-VA Secretary Dr. David Shulkin said expansion under the existing rules would add 180,000 caregivers and require $2.8 billion over the first five years -- a change he said he could not support.
Shulkin said he favored expanding the program to only the most severely injured or incapacitated veterans -- a move that would add roughly 40,000 caregivers and ultimately was approved.
But current enrollees and advocates believe it is unfair that legacy participants must meet the new criteria. And, they say, the review process has been inconsistent and fraught with error.
They charge that the reviewers have largely ignored the needs of those with traumatic brain injuries and mental health issues -- the "invisible wounds" of war.
"The person who did our assessment completely skipped the section regarding supervision, protection and instruction," said the wife, referring to an eligibility requirement that participating veterans must have an impairment that affects their ability to maintain their personal safety. "It is really hard for me to think it was not done on purpose."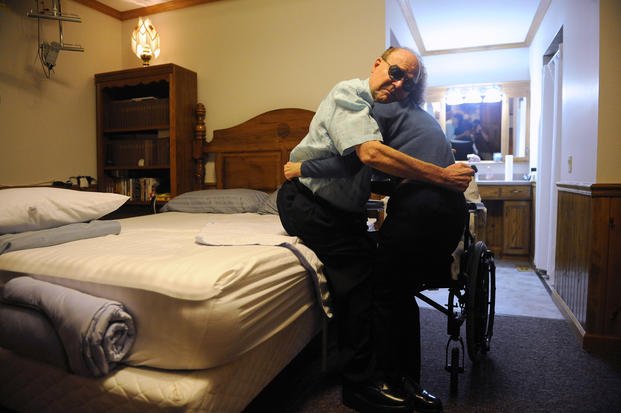 That suspicion is common among the families being told they are no longer eligible.
"I feel like there was no consideration of my son's situation," said a mother who has served as her son's caregiver for eight years.
The mom, who requested anonymity to protect her son, learned she was dismissed from the program just weeks after her son was hospitalized for psychosis.
"I told him I plan to appeal, but he tells me not to because 'so many other veterans are more hurt than me,'" she said.
The Program of Comprehensive Assistance for Family Caregivers, also referred to as the Family Caregiver Program, was introduced in 2011 for post-9/11 veterans seriously injured in the line of duty, beginning with 200 caregivers who received health care, mental health services, community support and a monthly $1,600 stipend.
It has grown to roughly 33,000 participants who now receive $1,750- $3,000 per month, depending on geographic location and the extent of care required.
The program was greatly expanded under the 2018 VA Mission Act, which required that eligible combat veterans from previous wars be allowed to apply. By law, World War II through Vietnam War veterans became eligible on Oct. 1, 2020, while combat veterans who served between May 1975 and Sept. 11, 2001, are set to become eligible this October.
With the program's expansion, the VA introduced new eligibility rules that focus on a veteran's need for assistance with activities of daily living, such as bathing, eating, grooming and mobility, as well as their personal safety.
While the previous eligibility rules were similar, the VA used a different evaluation scoring system and based stipends on the amount of time required to provide care, with those in the lowest tier needing 10 hours of care a week. Those in the highest tier -- at least 40 hours of care a week -- receive the largest amount.
VA officials have said the eligibility rules were introduced as a result of the Mission Act and announced in October that the department would review the cases of 19,700 "legacy" participants to determine whether they met the criteria.
From the outset, VA officials estimated that most of the participants in the lowest tier would lose eligibility, as would some in the middle tier, or roughly 6,000 veterans.
As a result of the outcry from caregivers, advocacy groups and members of Congress over the reviews, VA Secretary Denis McDonough said in March that the department is conducting a "deep dive" into the evaluation process to see what changes need to be made.
"We are constantly reviewing this. ... Experience dictates that we get smarter at this over time and so we can plow the lessons learned back into it," McDonough said. "We'll be looking at specific improvements in the program."
VA officials stressed that those being dropped from the program will receive their current level of benefits and stipends through March 2023.
"We are trying to get these [reviews] all done by the end of this month so that all veterans and caregivers know that decision and we have at least a year" for veterans to plan while still receiving their stipends, Caregiver Support Program Executive Director Colleen Richardson said in a call with reporters March 3.
"The program has really changed a lot. ... Battlefield medicine has changed significantly for those that have deployed and so has rehab, so what we're finding is that there are a lot of veterans who are no longer eligible under the current criteria," Richardson said.
Advocates argue, however, that the VA did not need to change the eligibility requirements for existing veterans in the program. Caregivers and groups have sued, calling the new rules "arbitrary and capricious," according to Veteran Warriors Inc. and National Veterans Legal Services Program Inc., the groups representing several caregivers.
"The only thing VA was authorized to do was to expand the program, but they restricted it," said Holly Ferrell, Veteran Warriors executive director, during an interview with Military.com. "We shouldn't be [pitting] veterans and caregivers of one era against another."
Since expanding the program to older veterans, the VA has received roughly 135,000 new applications and doubled the number of participants, according to the department.
The law clearly states that the VA is to take into account the caregiver's assessment of a veteran's needs and limitations and the extent to which a veteran can function safely and independently.
But it also stipulates that the veteran must have a "need for regular or extensive instruction or supervision without which the ability of the veteran to function in daily life would be seriously impaired."
The Mission Act received overwhelming support in Congress, with just 74 "no" votes in both the House and Senate. The tightening of the rules it contained made a culling of the veterans eligible inevitable, although lawmakers have begun to discuss countering the more restrictive guidelines.
McDonough said the department is looking to determine whether it has flexibility under the statute to make changes.
Democrat Jon Tester, chairman of the Senate Veterans Affairs Committee, has questioned the VA's emphasis on the activities of daily living and a requirement that veterans have a 70% disability rating to be eligible.
And Sen. Marco Rubio, R-Fla., has raised concerns regarding the manner in which the veterans have been notified of their denials, with no explanation for why they were dropped.
"Seeing general statements such as the veteran 'no longer meets the program criteria' is not helpful to the veteran or their families in understanding why they have been denied," Rubio wrote in a letter to McDonough in January. "This blanket denial also does little in helping them to prepare the appropriate documentation and materials in pursuing an appeal."
The VA has not released data for how many legacy participants have been dropped from the program, but Ferrell said that more than 900 have reached out to her organization seeking help with filing appeals.
Ferrell said the group is seeing numerous errors and omissions in assessments, adding that obvious mistakes can help veterans win appeals when presented with medical records and other documentation.
"You have assessors who are not documenting anything close to what the medical records state," Ferrell said. "A record will say 'veteran cannot be left alone,' but the assessment will say they don't require assistance with supervision. It's crazy."
She added that, based on what she has seen, the reviewers face even more difficulty assessing veterans with neurological conditions, including traumatic brain injury, migraines, neuropathy and mental health conditions.
"VA has misinterpreted the need for supervision, protection and instruction, and we are now questioning whether they even know what the term 'neurological impairment' means," Ferrell said.
The new rules say that to be eligible, veterans must need assistance with activities of daily living or require supervision, protection or instruction for their personal safety. To meet the requirement, they must have "trouble maintaining in a home environment," according to Timothy Jobin, deputy director of VA's Caregiver Support Programs.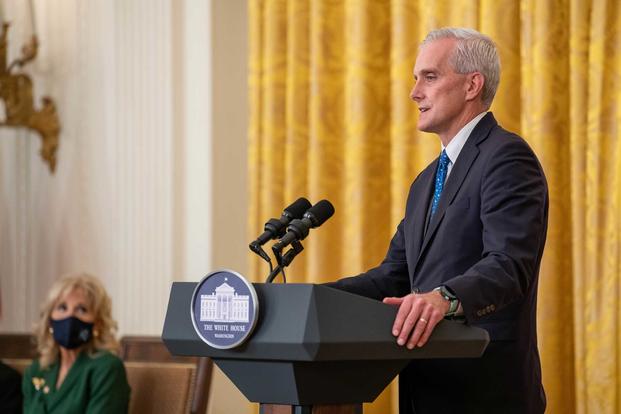 Jobin didn't elaborate on what constitutes "maintaining," but nodded to examples such as a veteran with a traumatic brain injury or dementia who leaves the stove on or wanders from the home.
Other symptoms such as anger -- a common symptom of post-traumatic stress disorder -- likely wouldn't meet the criteria, he said.
"We have people come to us and say, 'I need to be around in case that individual gets angry. We want to take that very seriously, but we have different therapies that individuals can engage in to assist with that. It doesn't quite meet the threshold for supervision, protection, instruction," Jobin said.
The VA is aiming for the reviews to be completed by the end of this month. Those being dismissed from the program should receive a phone call, followed by a letter confirming they are no longer eligible but have a right to appeal and even reapply in the future, VA officials said.
"They may not meet the eligibility criteria today, but if in three months from now, they need our assistance or they feel like they meet the eligibility criteria, we really want them to reapply," said Richardson, the director of the Caregiver Support Program.
The South Carolina veteran and his wife hope their appeal is successful but also are making plans if it is not. The wife said she will find a remote work job that allows her to continue caregiving or the couple will sell their house.
"Financially, we are going to be hurting, but that's not going to change the fact that I'm still going to be here for him. I don't want to go back to where we were," she said.
They said they plan to appeal, based on misinformation in the assessment and will even reapply if necessary, especially if the vet's symptoms worsen with age.
But, the wife said, she still doesn't understand why the VA would take away this benefit when, if she wasn't her husband's caregiver, he would hire someone to ensure that he takes his prescriptions, maintains nutrition and makes it to medical appointments.
"We worked really hard to at least be stable enough to function in this house, in a protected space," the wife said. "I had to give up on my career. But at least I am proud, because he always says that I pretty much have kept him alive."
-- Patricia Kime can be reached at Patricia.Kime@Military.com. Follow her on Twitter @patriciakime
Related: VA Will Keep Paying Caregiver Benefits During Review That Could Cut Off One-Third of Enrolled 9/11 Vets