Navy Petty Officer 2nd Class Sam Rodriguez's unit was in Norway for an exercise, but there was a basic issue the service hadn't worked out beforehand.
Where should Rodriguez sleep?
Norwegian service members share coed dorms, but the U.S. Navy segregates its sailors by gender.
Read Next: Fighter Jet from Luke Air Force Base Crashes in 'Fireball' During Training Mission; Pilot Ejects
For Rodriguez, who identifies as nonbinary transgender, the Navy policy meant sleeping in what was little more than a "broom closet," separate from everyone else in the unit a floor away. Rodriguez was the only U.S. sailor on the deployment who didn't fit into the Navy's traditional gender divide.
"I felt like Harry Potter," Rodriguez said in a recent interview with Military.com, referring to the fictional wizard whose abusive aunt and uncle made him sleep in a closet. "They're able to interact with each other; I'm basically just in this isolation."
After a week, Rodriguez was moved to the same floor as everyone else, but was still secluded in a different room.
"It made me feel shitty having to be separated from my guys," Rodriguez said.
The U.S. military has made strides in recent years to be more inclusive for different genders, gender identities and sexualities.
The "Don't Ask, Don't Tell" policy, which banned open service by gay, lesbian and bisexual troops, was repealed just over a decade ago. All combat jobs were opened to women in late 2015. And after a roller coaster few years of whiplashing policy, transgender service members have been able to serve openly since last year.
Nonbinary service is a frontier the military hasn't grappled with yet.
That could change soon, as the Pentagon has quietly been researching how it could allow nonbinary troops to serve more openly.
But those earlier policy changes all came after fierce, lengthy, often partisan battles, and any changes for nonbinary service members are expected to face similar pushback.
In the interim, nonbinary service members interviewed by Military.com described feeling isolated, living double lives and being misunderstood because of current policies, even as they said fellow troops respect and accept them in one-on-one interactions.
One of the service members Military.com spoke with cited restrictions about expressing their gender identity as a reason they are leaving the Army.
"There's not a lot of ways in which I can pursue expressing myself," Army Capt. Johnny Grady said. "It's been a large part of why I have decided to transition out of the military."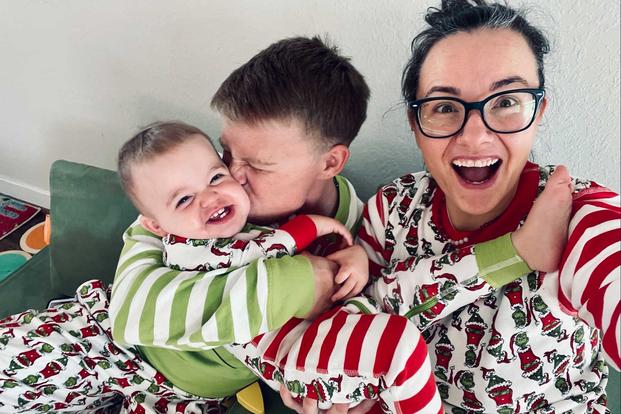 'There Will Be No Medical Support'
Nonbinary refers to someone who identifies as neither exclusively male nor female, often using "they" and "them" as pronouns and marking "X" as their gender on forms with that option.
Some nonbinary people also identify as transgender and get medical treatment so they look more masculine or feminine than they were born, but not all nonbinary people identify as transgender and not all transgender people identify as nonbinary. While sex and gender are often used interchangeably in everyday conversation, officially, sex is defined as biological characteristics while gender is marked by social standards such as attire and behavior.
There is no official ban on nonbinary Americans serving in the military like there were for gay or transgender troops.
But there's also no official recognition that nonbinary troops exist or guidance on how they should adhere to gendered policies, causing issues like the one Rodriguez described with sleeping arrangements.
The ambiguity has also caused some nonbinary service members to feel like they must "wear a mask," as several of those interviewed by Military.com phrased it.
Off duty, Grady will wear dresses and heels, paint their nails and experiment with makeup "despite the fact that I am not terribly good with it."
"But I have a tremendous amount of anxiety around showing up where I know there's going to be people that I know in the military," Grady said, explaining the only people in the military they've explicitly discussed their gender identity with are those involved with approving their separation.
"I would say that I'm pretty much leading a double life," Grady added.
Still, commanders can be accommodating for nonbinary service members.
Evaluations are supposed to use the pronouns that match a service member's gender marker in the Defense Enrollment Eligibility Reporting System, or DEERS. But Rodriguez said their command has been good about avoiding pronouns altogether in evaluations or even sometimes using "they/them."
Opening up service to transgender troops has also created some wiggle room for nonbinary service members. For example, even though Rodriguez is still listed as female in DEERS, they take testosterone, have had top surgery to remove breast tissue, and have gotten exemptions to grooming and uniform standards, allowing them to grow a mustache.
But the military's transgender policies still rely on binary male-female standards, which opens up other issues for nonbinary service members.
Navy Chief Petty Officer Arie Reid has recently started the process to medically transition to appear more feminine. But Reid said they had to misrepresent their gender identity in order to get medical care.
"For me to get medical support, I had to tell the Navy that I plan to transition from male to female," Reid said. "There is no conversation about nonbinary. If I had said that I was nonbinary, the Navy would have said, 'Hey, great, you have a gender dysphoria diagnosis; we'll provide mental health services.' That's the furthest it'll go. There will be no medical support for you even though my gender falls outside of the binary."
Reid serves under a different first name that Military.com is not using in accordance with best practices about "dead names," or the name someone had before transitioning.
'A Challenge to a Lot of People's Perceptions'
Nonbinary service members see some hope on the horizon for simplifying the labyrinth and clarifying the ambiguities they face in policy with the Pentagon's nascent research project.
Military.com first reported last month that the Institute of Defense Analyses, at the Pentagon's request, is researching how nonbinary troops could be allowed to serve more openly. The research has included reaching out to members of LGBTQ military advocacy groups, including SPARTA and the Modern Military Association of America.
The Defense Department previously declined to confirm or deny the research's existence to Military.com and did not respond to follow-up requests for comment for this article.
But the Pentagon confirmed it is doing the research in a statement to congressional staff obtained by Military.com. Still, the statement to congressional staff said the department often researches issues that "may or may not become policy in the future."
The department expects to receive the research on nonbinary service later this year, according to the statement to congressional staff.
Advocates see the Pentagon undertaking a formal research project as a sign the department is serious about changing its policies.
"I know this isn't easy because it's just a challenge to a lot of people's perceptions, but we faced most of the same issues before with all the other groups that have incorporated into the service and realized that the value we get out of it is more than we had beforehand," one advocate familiar with the research who requested anonymity to speak freely told Military.com. "So yes, I am very hopeful that we're going to get there, and we're going to get people able to serve authentically."
Advocates and nonbinary troops don't have to look very far back in history to get a sense of the fight they may be in for.
When then-President Barack Obama allowed transgender troops to serve openly in 2016, conservatives howled about potential medical costs and effects on unit cohesion, despite medical costs five years into the Obama policy running about a fifth of the cost of one F-35 Lightning II fighter jet and testimony from service chiefs that they had seen no issues with discipline, morale or unit cohesion after the 2016 policy was in place.
Heeding conservative pressure, former President Donald Trump re-banned open service by transgender troops, first announcing his intention to do so in a 2017 tweet and then imposing a formal policy in 2019. Transgender troops who came out under the Obama policy were still allowed to serve openly and receive medical care during the Trump ban.
Several lawsuits were filed against Trump's ban, but despite some initial court successes in blocking the policy from taking effect, the Supreme Court ultimately paved the way for the policy's implementation.
Last year, days after his inauguration, President Joe Biden lifted Trump's ban. But advocates still worry a future president could ban transgender service yet again and have been pushing Congress to pass a law ensuring open transgender service.
Conservative groups have been relatively quiet since word got out about the Pentagon's research on nonbinary troops, and Republican lawmakers who in the past have publicly criticized "woke" military policies did not respond to Military.com's requests for comment for this article.
But nonbinary service members and advocates fear a fight over their service could be just as hard as the fight over transgender service.
"If someone is already transphobic, they're going to have a strong opinion about nonbinary," said Rodriguez, the Navy petty officer.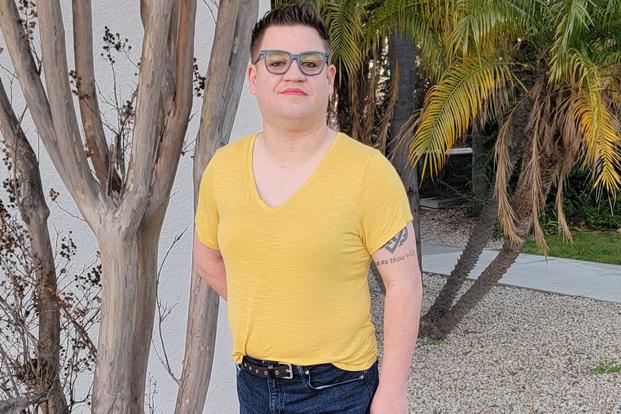 Setting policies for nonbinary service members may also be a practical matter as younger generations come into recruiting offices with official documents listing their gender as nonbinary and recruiters must decide what to do.
More than 20 states and the District of Columbia have an option for an "X" gender marker on driver's licenses, and more than a dozen states allow an X on birth certificates. The State Department for the first time last year issued a passport with an X gender marker. A 2021 study by the Williams Institute at the UCLA School of Law found about 1.2 million U.S. adults identify as nonbinary, about 76% of whom are under age 29.
The Air Force has already made a small, but advocates say significant, move toward recognizing nonbinary individuals. In December, the service announced that airmen and Guardians are allowed to note pronouns in email signatures, including "they/them."
"An inclusive force is a mission-ready force, and I'm thankful to the LGBTQ Initiatives Team for helping us realize this opportunity to be a more inclusive force," Under Secretary of the Air Force Gina Ortiz Jones, who is gay, said in a December statement.
'Really Boggles Their Mind'
A Space Force Guardian interviewed by Military.com who requested anonymity out of concern for affecting their young career said they feel their leadership right now has been "really incredibly accepting."
But the Guardian also described difficulties during ROTC, particularly after Trump reinstituted the transgender ban. The Guardian had already come out to some people before then but "retracted" their coming out after Trump's tweet.
The Guardian also had to wear what they described as a "really awkward, gross pixie cut" to comply with female grooming standards that made them feel like their hair "wasn't connected with my body."
"A lot of it came back to this feeling like my identity just wasn't conducive with that military career," the Guardian said. "Everybody else was conforming, everyone else was maintaining those standards and slicking their hair back or taking care of it in the way that they were supposed to. It was alienating, really."
Uniform standards also present land mines for nonbinary service members.
One Army officer interviewed by Military.com who requested anonymity over concerns about jeopardizing a pending promotion recalled a time in basic training when the officer was told to try on a skirt and refused.
"I had a number of drill sergeants just jump on me, like if you've ever seen 'Full Metal Jacket,'" the officer recalled, referencing a movie that depicts Marine Corps recruits struggling under an abusive drill instructor during the Vietnam War. "Their faces in my face and their fists and their fingers and their hands in my face and essentially just like verbally brutalizing me to put this skirt on."
The officer eventually acquiesced and put on the skirt, reasoning it was "just a piece of fabric" that shouldn't "have this much power over me."
Sometimes, it turns out that nonbinary service members didn't need to be anxious about their colleagues' reaction to their gender identity.
Reid, the Navy chief petty officer, recalled a time they wore waterproof mascara over the weekend that didn't fully wash off by the time they went back into work. A coworker noticed, and Reid had what they called an "oh crap" moment. But after Reid explained their gender identity is nonbinary transgender, the coworker was "fortunately, absolutely understanding."
But even when colleagues are accepting, the service members interviewed by Military.com said they don't feel colleagues necessarily understand what it means to be nonbinary and just see them as transgender.
The term nonbinary has entered broad public usage only in recent years; the definition of "they" as a singular pronoun for someone who identifies as nonbinary was added to Merriam Webster in 2019.
Reid, who joined the Navy a decade before Don't Ask, Don't Tell ended, has seen firsthand the military's evolution toward being more inclusive. But whether nonbinary service members will soon be part of that evolution is an open question.
"We're nowhere near there yet, but we're moving toward a gender neutral force," Reid said. "I am hopeful that we become more inclusive every day. As it stands right now, at least for the military leadership, there is more research that needs to be done for them to understand what gender is. ... I don't know that it's going to happen in the next five to 10 years, but I've been wrong before."
-- Rebecca Kheel can be reached at rebecca.kheel@military.com. Follow her on Twitter @reporterkheel.
Related: Pentagon Quietly Looking into How Nonbinary Troops Could Serve Openly