MCRD San Diego -- When Marine leaders defend the Corps' historic resistance to further gender integration of recruit training, they often bring up infrastructure as a major challenge. The two Marine Corps boot camps, built in the 1910s, are simply not built to accommodate companies integrated by gender.
Gen. David Berger, commandant of the Marine Corps, even suggested last year that the service would have to close down its existing training bases and build new ones to carry out a congressional integration mandate.
"Nothing, the way we're organized right now, lends itself to integrated recruit training," he said in September 2020. "If that's our start point -- and it is -- we have to get to a place on both coasts, or at a third location or whatever we end up with, that ... there are male and female recruits around."
Read Next: Troops Blast Senator for Claiming US Military Has Been 'Emasculated'
But when the Marine Corps changed course and allowed an integrated recruit company to train at its previously all-male San Diego boot camp earlier this year, preparation -- at least when it came to living quarters -- was surprisingly simple.
The female recruits, who all belonged to Lima Company's Platoon 3241, were housed in a ground-floor segment of a male barracks building. The shoulder-level windows that lined the external walls of the barracks were covered with a frosted coating that offered a level of privacy that the other barracks floors lacked.
The shared bathrooms received a bit of attention too: While urinals were allowed to remain in place, a laminated "hygiene in progress" sign was created to announce when the facilities were in use and keep male leaders from proceeding farther into the building. Female recruits were also told to stay dressed, at least in PT gear, at all times beyond the hallway leading to the bathroom and showers.
"It wasn't hard, right?" Col. Matt Palma, commander of Recruit Training Command here at the depot, told Military.com during a tour of the facilities in late April. "Look at this squad bay. If I were to take you to another squad bay, and we could walk across the hall and I could show you the squad bay for one of the male platoons, they look identical. The only thing we really did ... is frosted the windows."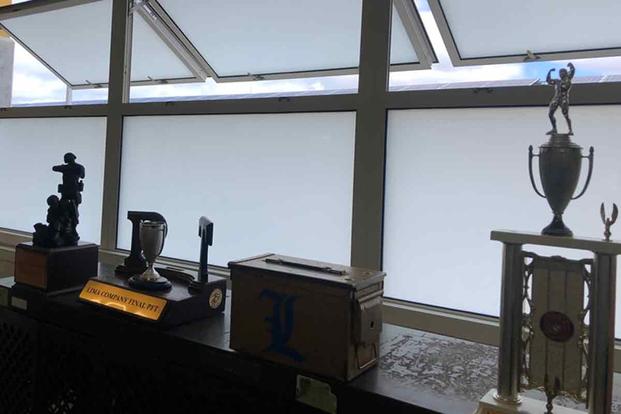 During their training period, the female recruits ate at the chow hall shared by all recruits training at the depot. Mentorship by a team of female drill instructors happened in the squad bay; otherwise, their experience was much the same as any of the other trainees.
Palma said he'd eventually like to get all the barracks windows frosted, adding that the project would not be particularly costly or labor-intensive.
Of course, there is a question of scale. Platoon 3241 started with 59 female recruits and graduated 53; accommodating that small number was fairly easy. But even as numbers increase, infrastructure just isn't that big of a concern for leaders.
Right now, San Diego graduates about 17,000 recruits per year, roughly half of the 34,000 total recruits who join the Marine Corps annually. With women making up about 8% to 10% of the Marine Corps, that means San Diego could expect annual throughput of about 1,700 female recruits to start -- although Marine leaders do hope that number grows. The depot is under a congressional mandate to accommodate these recruits by 2028; its sister boot camp, Marine Corps Recruit Depot Parris Island, will be required to integrate its gender-segregated training battalions by 2025.
Plans are already in place to build a new chow hall to replace the aging existing facility, and to build a new medical clinic with exam rooms and equipment suitable for use by men and women. In the meantime, Palma noted, female recruits would have access to state-of-the-art facilities at Naval Medical Center Balboa, less than 10 minutes away, and had the benefit of a "surge" medical team sent to the training base.
"Another H-style barracks would be nice to have," he said, referring to the barracks buildings' layout. "But if we didn't get that, I don't think it's a showstopper."
Because the San Diego boot camp training schedule involves a four-week period where recruits move off site to train at Camp Pendleton, the base now has four barracks that are unoccupied at any given time.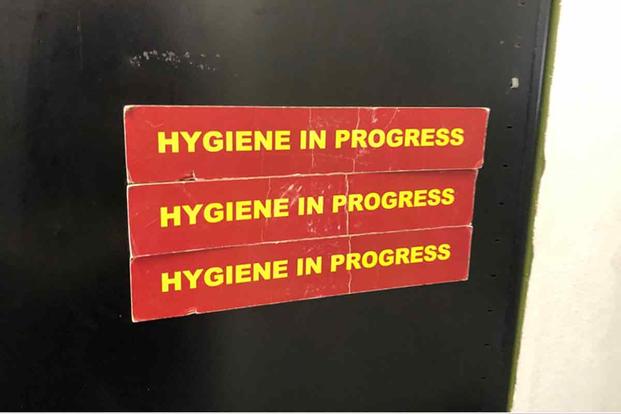 While San Diego might be ready to assume its full share of the task of training female recruits tomorrow with the facilities it has, Palma is more concerned with a thornier personnel question: how to ramp up training and development for quality female drill instructors. While the West Coast training base has just begun training women regularly, he said "growing" experienced DIs -- who are, in shifts, with recruits 24 hours per day -- is a massive and time-intensive task.
To train Platoon 3241, female senior DIs were mostly brought in from Parris Island, some of them uprooting life and family for the task. Female DIs are already a low-density, high-demand field within the Marine Corps, he added.
"So, every Marine that comes here to be a drill instructor goes through my DI school, a demanding 11-week program. ... They have to have a first class [physical fitness test] ... they have to be carefully screened by their commanders. They must have stable family situations, stable financial situations. They have to be high performers. All of those things kind of further, take that number and reduce it," he said. "So what we end up with is a small, highly qualified, very capable group of young female Marine leaders that often have to work really, really hard."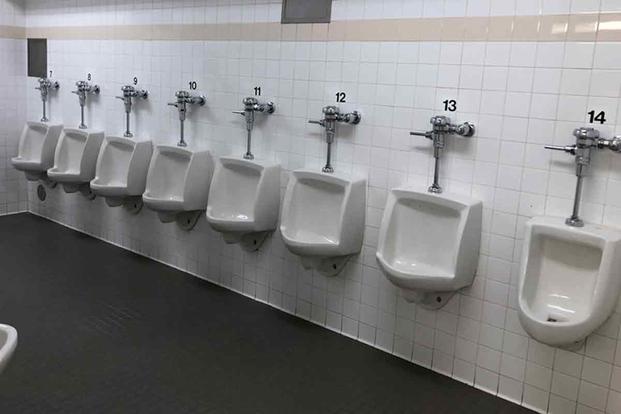 That's why Palma doesn't expect to graduate another class of female recruits this fiscal year, even though the first class was a marked success, and the training base has the facilities and resources to do so. He said he'd like to have the next female recruit platoon supported by locally trained female drill instructors and augmented by a few more experienced ones from Parris Island.
The Marine Corps has ways to ramp up its population of female drill instructors and make the voluntary job more appealing. Simply making DI training and job billets available on the West Coast may create appeal for a new swath of the Marine Corps population that otherwise would be held back by geographic challenges.
Palma also mentioned a proposal that would create paths for Marine reservists to volunteer for drill instructor duty, further building up the DI pool. It's possible the service's problem of training and developing enough female DIs is as much structural as it is demand-based.
"It's a math problem, and it's not just a math problem, but there's an art and science to it," Palma said. "So there's leadership applied to it."
-- Hope Hodge Seck can be reached at hope.seck@military.com. Follow her on Twitter at @HopeSeck.
Related: Acclimation Period Before Marine Corps Boot Camp Could Stave Off 'Recruit Crud'