The U.S. Army just awarded a $50 million contract to Barrett Firearms Manufacturing Inc. to arm snipers with the multi-caliber sniper rifle preferred by special operations forces.
The five-year contract will buy 2,800 MK22 Multi-role Adaptive Design, or MRAD, sniper rifles that can be chambered for .338 Norma Magnum, .300 Norma Magnum and 7.62x51 NATO ammunition, Army officials from Project Manager Soldier Lethality announced today in a news release. The contract was awarded March 30.
The award comes two years after U.S. Special Operations Command awarded a contract to the Murfreesboro, Tennessee-based firm for the new MRAD sniper system.
Read Next: Army's Pilotless Black Hawk Highlights Emerging Technology in Demo Flight
The new rifle will replace the M107 sniper rifle, also made by Barrett, and the M2010 Enhanced Sniper Rifle systems, Program Executive Officer Soldier spokesman Alton Stewart said in March 2020.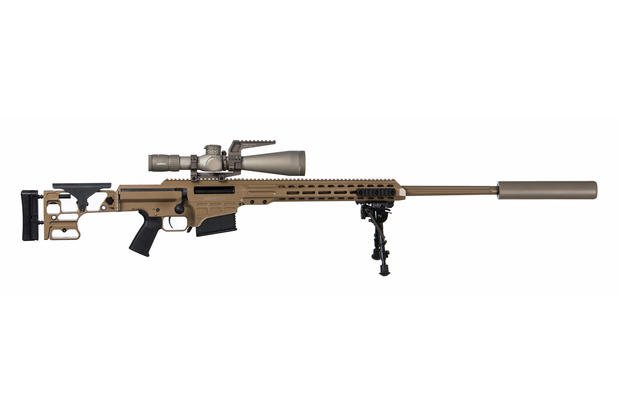 The MRAD will allow Army snipers to shoot out to 1,500 meters with the barrel chambered for .338 Norma Magnum. That's 300 meters farther than the M2010 Enhanced Sniper Rifle, chambered for .300 Winchester Magnum.
The MK22 is part of the Army's Precision Sniper Rifle program, which also includes the Leupold & Stevens Mark 5 HD scope and a sniper accessory kit, according to the release.
The Marine Corps also has chosen the MRAD for its Advanced Sniper Rifle program. The MRAD is set to replace the Marines' current Mk13 Mod 7 sniper rifle, chambered for .300 Winchester Magnum, and other bolt-action sniper rifles in the sea service.
The MRAD features a quick-change barrel system that allows snipers to switch to a different caliber in the field with a single tool, according to Barrett's website.
When equipped with the 20-inch 7.62x51mm, the MK22 is 42.4 inches long and weighs 13.9 pounds. The .300 Norma Magnum configuration has a 26-inch barrel, measures 48.4 inches overall and weighs 15.2 pounds. In .338 Norma Magnum, the MRAD has a 27-inch barrel, measures 49.4 inches in length and also weighs 15.2 pounds, according to the site.
The MRAD also has a 10-round magazine and a folding stock with an adjustable cheek piece. The upper receiver is machined from 7000-series aluminum. The MRAD bolt rides in a unique enclosed polymer guide, which provides smooth, reliable operation in harsh conditions, Barrett's website states.
-- Matthew Cox can be reached at matthew.cox@military.com.
Related: Army and Marines to Arm Snipers with Special Operations Multi-Caliber Sniper Rifle