Editor's Note: This story has been updated to reflect Torres-Estrada's reassignment.
U.S. Special Operations Command had reassigned its new chief of diversity and inclusion amid an investigation into social media posts criticizing police and former President Donald Trump, officials confirmed Monday.
SOCOM welcomed Richard Torres-Estrada in a tweet March 25.
"We look forward to his contribution in enhancing the capabilities and effectiveness of #SOF through diversity of talent, helping us recruit the best of the best. #QuietProfessionals," SOCOM said in the tweet.
But within days, critics were roasting Torres-Estrada for some of his public Facebook posts, particularly one last summer that implicitly compared President Trump to Adolf Hitler.
The well-circulated meme juxtaposes a doctored photo of Hitler appearing to hold up a book resembling a Bible with a genuine photograph of Trump holding a Bible in front of St. John's Church across from the White House. The Trump photograph was taken June 1, 2020, after police and National Guard members used tear gas on peaceful protesters so he could walk to the church.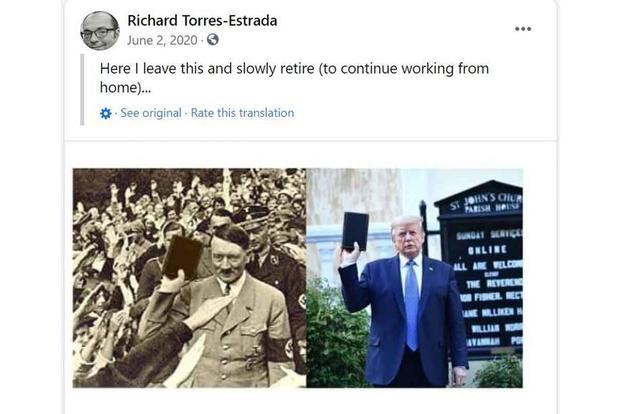 Read Next: Unusual Tweet by Strategic Command Spurs Comedic Comments
Hitler is not holding anything in the original, unaltered photograph, as displayed on Getty Images' website.
In another post that garnered much criticism over the weekend, Torres-Estrada shared a cartoon last May showing police arresting the fairy-tale Three Bears while taking a statement from Goldilocks. The meme is captioned, "If you still don't understand how racism works, remember SHE broke into THEIR house. #StopRacism."
He also shared an image of Trump last July with multiple derogatory quotes about him from former members of his Cabinet superimposed, and a mocking "missing" flyer for Sen. Ted Cruz, R-Texas, in February.
In response to a Military.com inquiry, SOCOM spokesman Ken McGraw said in an email, "USSOCOM is aware of the situation, and the command has initiated an investigation."
McGraw said in a follow-up email Tuesday that Torres-Estrada has been assigned to other duties, pending the results of the investigation. He did not say what his new duties are.
Pentagon Press Secretary John Kirby told reporters Monday that SOCOM commander Gen. Richard Clarke informed Defense Secretary Lloyd Austin about the investigation. Kirby said Austin supports SOCOM's decision to look further into the posts and appreciated being apprised of the situation.
"Obviously, we take the need to promote diversity and inclusion seriously here, in the department," Kirby said. "The secretary has spoken of that many times. And we certainly want that work to be transparent, to be credible, to be effective and, of course, professional. We want everybody to take those duties and those responsibilities seriously and professionally."
Kirby declined to comment further, saying he didn't want to get ahead of SOCOM's investigation.
Clarke has spoken several times recently about the difficulty SOCOM has had in improving its diversity in recent decades, but also of the importance of doing so, calling it an "operational imperative."
"We need men and women of all ethnicities and races, along with a diversity of backgrounds and beliefs in our formation," Clarke told lawmakers last week. "In a force charged with solving multifaceted problems in a complex global environment, service members who are included, respected and empowered are more ready to deter aggression and win wars."
-- Stephen Losey can be reached at stephen.losey@military.com. Follow him on Twitter @StephenLosey.
Related: Top Pentagon Leaders Summoned to Testify on Military's Response to Protests