Army Sgt. Taylor Kneuven's call for improving the military's response to sexual assaults grew out of her own experience.
Kneuven, 28, says she was sexually assaulted by a noncommissioned officer in March 2020 while deployed supporting the Department of Homeland Security at the U.S.-Mexico border. She filed an unrestricted report, which was later joined by the alleged perpetrator's own company commander, who said she too had been sexually assaulted by him two weeks before.
The NCO initially claimed that he had been falsely accused, Kneuven said, but the complaint was backed up by an Article 15 fact-finding investigation and resulted in the NCO being issued a letter of reprimand from a general. Despite all that, a three-member Army administrative board decided to keep him in the service.
Kneuven was stunned.
Read Next: Extremism 'Has Reared Its Head' in Air Force Special Operations, General Says
"You're talking about a commissioned officer of his own company and I -- two totally different formations [who went together to file the complaint against the NCO]," she said.
The eight-year Army veteran, now serving with an engineer battalion of the 3rd Brigade Combat Team, 101st Airborne Division, at Fort Campbell, Kentucky, was one of 41 soldiers who responded to the XVIII Airborne Corps' request to the ranks for "feasible, tangible solutions to improve or revise the Army's Sexual Harassment/Assault Response Prevention [SHARP] program."
It's an initiative that follows an order given by Defense Secretary Lloyd Austin to the military services in late January: Prove your sexual assault prevention methods are working -- or show data and analysis on the ones that are not. It also bears the fingerprints of Lt. Gen. Michael "Erik" Kurilla, commander of the XVIII Airborne Corps.
Kurilla believed "SHARP is not working, the program's not working," said Col. Joe Buccino, a spokesman for the Corps. He had called for "something bold in nature" to deal with the problem of sexual assault, Buccino said.
Kneuven felt she had firsthand experience with at least one element of the dysfunction.
"My recommendation is on the way the justice system works when it comes to separating individuals found guilty of sex harassment or sexual assault," she told Military.com, referencing how her own complaint of sexual assault by a noncommissioned officer was handled.
Those chosen to serve on administrative boards deciding on separations "should not be people in the military. They should be a separate entity [of] experts at the law and justice to serve on these boards," she said.
The Army sergeant's story is chilling in that it closely mirrors that of an anguished Marine whose TikTok video surfaced last week and rattled the Pentagon.
The Marine charged that another service member had allegedly admitted to sexual misconduct against her but might still have a chance before an administrative board to remain in the Marine Corps.
Marine officials have since said the perpetrator in that case is facing separation from the service.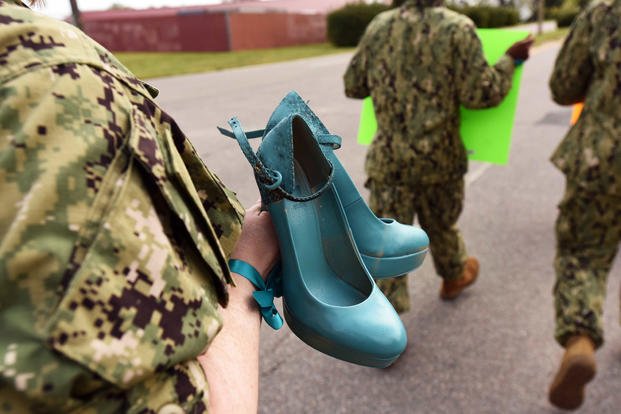 And Kneuven is far from alone in decrying problems with the Army's prevention system.
In interviews, she and several others, both officers and enlisted, cited their own experiences and frustrations, echoing numerous reports and studies from both the military and outside groups on the need for structural reform of the justice system to overcome perceived leadership failures and fix what is openly acknowledged as a broken prevention system.
The recommendations from the troops ranged from holding leaders more accountable for implementing the SHARP program to shoring up the Army's Criminal Investigation Command.
Out of 41 received recommendations, the seven deemed best by XVIII Airborne Corps panelists were announced Monday for action by the unit. In addition to Kneuven's and others described below, they include the following:
Challenging students at the top U.S. film schools to produce a 30-minute film to be used in SHARP training
Creating a system to track victim support and making leaders responsible for SHARP training
Changing which SHARP representatives are assigned to units, along with changes to manning within the Army's Criminal Investigation Command
Developing an Army or Department of Defense-wide digital app to host all support programs, base services and unit contacts related to sexual assault prevention and support
Creating a "Dragon Guardian" to empower junior leaders, and creating "SHARP ambassadors"
"[Kurilla] said elements of each of the soldiers' ideas will not only be implemented across the formation, but those ideas will be shared with the Department of the Army's SHARP Reconstruction Board," XVIII Corps officials said in a release.
Leaders Avoid Getting Involved
But Kneuven and others from the XVIII Corps said leaders tend to be indifferent to their complaints and recommendations, or too consumed with other responsibilities to give full attention to sexual assault and harassment.
Capt. Sara Ingrao, serving with the military police in the XVIII Airborne Corps, cited an incident that occurred while she was in Afghanistan in 2012-2013, escorting security transition teams and working with the Afghan police.
Ingrao said she left briefly on a break during a meeting to give an overview of operations to a colonel. When she returned, she found a sergeant major sitting in what had been her seat.
Ingrao said she told him, "Hey, sergeant major, you're sitting in my seat."
She says that he laughed, pointed to his crotch area and said, "You can sit here. This is a perfect seat for you."
"I can't believe this is happening," Ingrao said she thought. "I had this reverence for sergeant majors. Not one person, minus the other woman in the room who was my squad leader, said anything. Not one person said that was inappropriate. They just stared at me."
She said she filed a complaint; two days later, the sergeant major confronted her at a heliport.
"He demanded to know why I felt the need" to make a complaint, she said, adding that he claimed "it was just a joke" and told her she didn't belong in the Army if she couldn't take a joke.
"They moved him, he went somewhere else, and that's the last I heard of him," Ingrao told Military.com. "Nothing happened to this dude other than him getting moved."
Recommendations Based on Experience
Soldiers tended to mix the personal with their policy recommendations in their submissions for improvements to the SHARP program.
The XVIII Airborne Corps has about 92,000 soldiers at 14 locations, including some of the Army's most storied formations -- the 82nd Airborne Division, 101st Airborne Division and 10th Mountain Division.
Ingrao submitted detailed recommendations that centered on the need for leaders to get more involved in the oversight and administration of the SHARP program.
In her submission, Ingrao wrote that leaders have relied solely on subject matter experts to guide them "on what to do when an assault transpires and how to react to issues within their formation when they pop up."
"Stop doing 'SHARP stand-down days' and start doing 'Leadership Engagement in SHARP days,'" she said.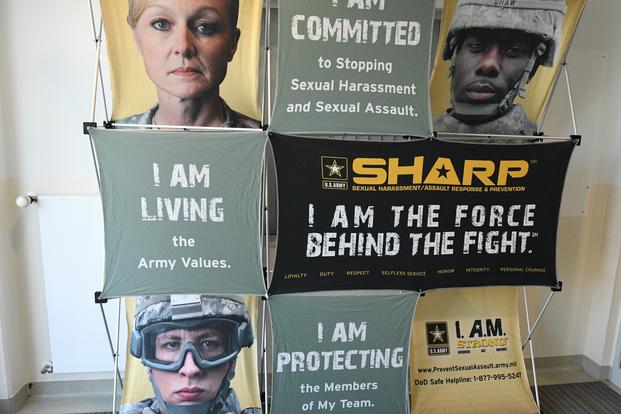 Sgt. 1st Class David Brand, an 18-year Army veteran now with the 3rd Expeditionary Sustainment Command, had a different approach, suggesting that the service should consider allowing anonymous tips to the SHARP program to put soldiers on alert for possible predators in the ranks.
The suggestion would raise privacy concerns, but Brand said, "If we don't try different ideas, we're not really doing anything."
Staff Sgt. Shameka Dudley, assigned to the 525th Military Intelligence Brigade, was one of the seven whose recommendations were considered best by the XVIII Airborne Corps panelists.
She recommended creating virtual reality SHARP training in which soldiers would be put in the place of victims of sexual assault and harassment to give them perspective on what others may have experienced.
"It could be a more interactive method, as opposed to our normal training," said Dudley, a 10-year Army veteran. "The point is to create empathy across the force because that seems to be an issue [with some soldiers who tend to ignore or belittle the threat]."
The response to a victim can often be, "Well, they're just joking or you're taking it too seriously, and it's like there's no empathy," she said.
Early in her career, a friend was sexually assaulted when they were both going through Advanced Infantry Training, Dudley said.
"It was definitely an eye-opener, being a new soldier in the military and seeing that happen. It just completely blew my mind. You're taught in basic training that you protect your battle buddy," she added.
Her friend's assailant eventually was convicted and sent to jail at Fort Leavenworth, but she never completely recovered and chose to leave the Army, Dudley said.
A Rand Corp. report published Feb. 8 found that service members who survive a sexual assault are twice as likely as their peers to leave the military during the first 28 months after an attack.
"Sexual assault and sexual harassment are associated with a wide range of harms to individual service members, but this study highlights another negative impact of these crimes -- higher rates of attrition and associated harms to force readiness," Andrew Morral, lead author of the Rand report, said in a release.
The report was based on a Rand Military Workplace Study done in conjunction with the Defense Department.
More efforts such as that undertaken by the XVIII Airborne Corps to solicit recommendations from the ranks could go a long way in convincing junior soldiers that leaders are taking their concerns seriously, said Command Sgt. Maj. Phelicea Redd.
Doing so would change the atmosphere, she said.
Currently, junior soldiers "don't have really anybody to tell that to or anybody that would carry that forward to a decision maker," said Redd, 42, a 24-year veteran with two deployments to Iraq and one to Afghanistan with the 101st Airborne Division.
Redd said that she experienced sexual harassment as a young soldier. "We didn't have SHARP back then and, when I reported it to my squad leaders, that's as far as it went. If there was anything more, I wasn't aware of it as a junior soldier.
"I had a senior leader that was calling me at home, asking me to meet him at a hotel, telling me how he wanted to be with me," she said. "I let my squad leader know, 'Hey, this guy is calling me, harassing me, trying to get me to be with him, and I want it to stop. What do I do?'
"The squad leader said, 'That's just him, that's how he is,'" Redd said. But the calls did stop.
"I just assume the squad leader told him, 'Hey, stop calling her.'"
-- Richard Sisk can be reached at Richard.Sisk@Military.com.
Related: 'I Am Not a One in a Million Story': Marine Speaks Out After Viral TikTok Video About Sexual Misconduct