Former Marine Staff Sgt. James Martin, a veterans advocate in Pittsburgh, will be on the field Sunday as one of three "honorary captains" chosen by the NFL for the Super Bowl coin flip.
In an interview with Military.com, he said he hopes his presence delivers the message that "if we all band together, there's nothing we can't do." He also wants to impress upon the game's vast TV audience that "we're not done after we put down the uniform," he added.
Read Next: 'Beijing Biden Is Not My President:' Troops' Social Media Posts in Spotlight After Capitol Riots
Martin, 39, a veteran of Iraq and Afghanistan, was named an honorary captain along with Los Angeles educator Trimaine Davis and Suzie Dorner, a COVID-19 intensive care unit nurse manager at Tampa General Hospital, for "their dedication and selfless commitment to helping others," the NFL said in a statement.
"We are honored to recognize these three individuals who represent the best in all of us," said NFL Commissioner Roger Goodell. "During this incredibly challenging time in our lives, Trimaine, Suzie, and James have exemplified the essence of leadership, each in their own way."
Before the game Sunday pitting the Tampa Bay Buccaneers against the Kansas City Chiefs, presidential inauguration poet Amanda Gorman will recite an original poem dedicated to the three "in recognition of their tremendous impact during an unprecedented year," the NFL said.
Martin, who served with the 10th Marines artillery unit on two deployments to Iraq and one to Afghanistan, was cited for his work in supporting veterans, high school athletes and local youth in the Pittsburgh area.
He also is the co-host of a Veterans Breakfast Club podcast called "The Scuttlebutt," which has served as an outlet for vets to tell their stories and stay connected.
"The idea of connection was the principle behind everything [in the podcast]," Martin said, given social distancing during the pandemic.
For many veterans, "it's very hard to be left to your own devices. Some of us have those demons come back [from battlefield experiences]," he added.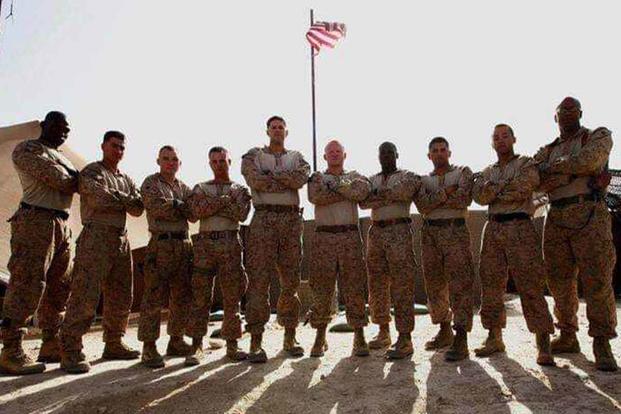 Martin learned that he had been chosen as an honorary captain from "The Bus" -- Hall of Fame Pittsburgh Steeler running back Jerome Bettis -- while on a Zoom call with other veterans.
Bettis jumped on the call to tell Martin that he'd be going to the Super Bowl in recognition of his work, adding, "What you guys are doing means so much to so many. Thank you for the service you're providing, brother. We appreciate you."
Martin was momentarily stunned that one of his idols had contacted him. "How often are you going to have Jerome Bettis on your phone?" he said.
The call was especially meaningful coming from Bettis, who also devotes service to the Pittsburgh community, Martin said. "For him to reach out, that means you've done some good work."
-- Richard Sisk can be reached at Richard.Sisk@Military.com.
Related: This Naval Reserve Officer Also Has Two Super Bowl Rings