A veteran lance corporal who deployed to Iraq twice took the president's July 4 "Salute to America" message to new heights with a super patriotic wedding.
Jeff and Audra Johnson of Kalamazoo, Michigan, went all out for their Independence Day wedding. The bride wore an Andre Soriano-designed "Make America Great Again" gown that said "Trump" on the train. The groom, who served as an electro-optical ordnance repairer with Headquarters Company, 7th Marines, until 2006, wore his dress blues.
"Patriotism is a huge part of our lives and we wanted to showcase that," Jeff Johnson told Military.com.
There were red, white and blue bouquets; tiny flags on Audra Johnson's manicure; and plenty of red ballcaps sporting President Donald Trump's "MAGA" slogan.
Related content:
"It looked like America threw up all over my wedding, and I'm not sorry," Audra Johnson told Fox 17 in West Michigan.
This isn't the first time one of Soriano's Trump-inspired dresses has made headlines. In 2015, he designed a blue gown for Joy Villa, a singer who once told Fox News she hopes to run for Congress someday. He designed several more Trump-inspired dresses the following year for a Virginia Women for Trump event held at the president's Washington, D.C., hotel.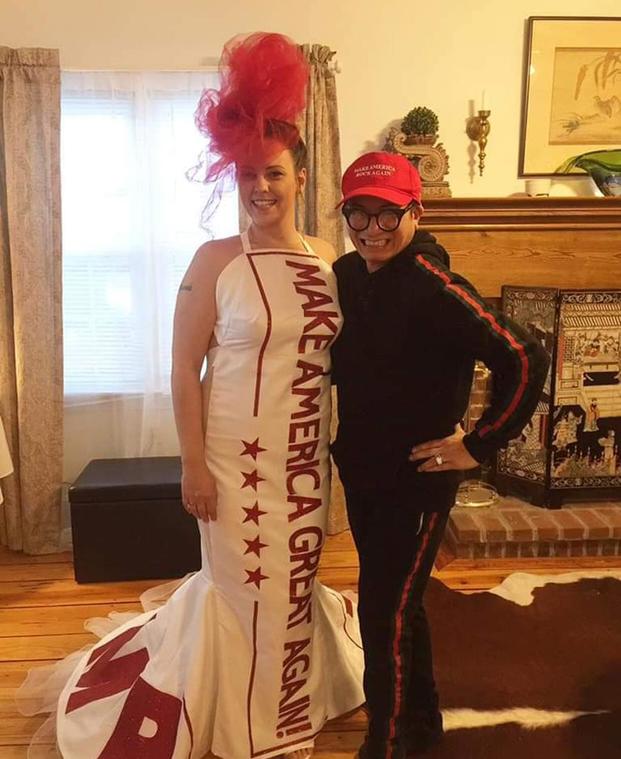 The Johnson wedding included guests from all walks of life with different beliefs and political views, Jeff Johnson said.
"All were welcomed and treated with dignity and respect," he said. "We don't need to agree with everything to love each other as human beings despite our differences."
The Marine vet is not alone in his support for the commander in chief. Of the 1,284 military veterans surveyed in a new Pew Research Center study, 57% said they approve of the way Trump is handling his duties as commander in chief.
Though the bride and groom made sure their guests felt welcome, the couple is dealing with some negative backlash. Audra Johnson told CBS News they've received threats since posting photos of their wedding on social media.
"There's been really nasty comments," she said.
-- Gina Harkins can be reached at gina.harkins@military.com. Follow her on Twitter @ginaaharkins.