David Smith believed, like many Marine recruits do, in God, Country, and Corps. He wanted to make a difference, and became an Infantry Rifleman and Team Leader with Alpha Company "Raiders" of the 1st Battalion, 4th Marine Regiment. Deployed twice in support of Operation Iraqi Freedom, Smith's unit was engaged in some of the heaviest fighting of the war, including the battle of An Najaf.
But then the "fog of war" engulfed Smith during an intense gunfight one night, and he shot and wounded a fellow Marine. The incident haunted him for years, and he nearly took his own life as a consequence.
Since that fateful night, Smith's journey has taken some unexpected turns, including an appearance in former President George W. Bush's "Portraits of Courage" painting series (now collected in the book Portraits of Courage: A Commander in Chief's Tribute to America's Warriors). And now he's making a difference in new ways: as a Chief Marketing Officer for a software company, and as an example for how to move on to a healthy, productive civilian life after military service.
Connecting Through Other Veterans
Smith credits mentors and other veterans for helping him get the help and tools he needed to cope with his crushing guilt and PTSD. Says Smith, "One veteran knew I liked to mountain bike and got me involved with the Bush Center Military Service Initiative (MSI) which does an annual Warrior 100K (100km) bike ride with former President Bush." Smith's participation with the MSI led to Smith being chosen to be featured as one of the veterans in former President Bush's "Portraits of Courage."
"Seek the help you need and you'll respect yourself for it," says Smith.
After graduating from UC Berkeley (and Stanford University's Ignite program), Dave interned on the New York Stock Exchange, delivered disaster response with Team Rubicon in the Philippines, and traveled to almost 30 countries doing missionary and humanitarian projects. He then moved to Norway, where he lives with his wife and works as the Chief Marketing Officer for Dogu, a software startup.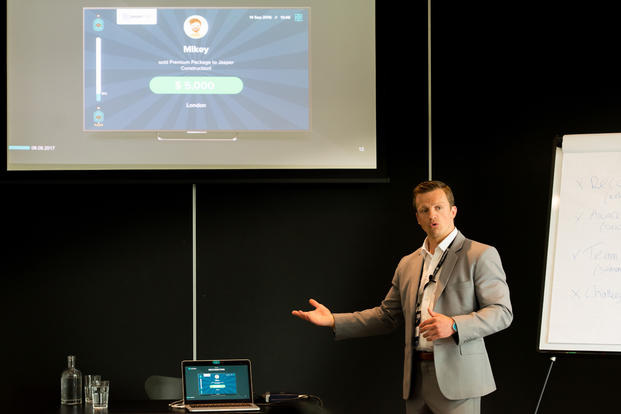 Smith is living proof that veterans should embrace their military training. Adapt, Improvise, Overcome, is more than the informal Marine Corps motto--it's the grit that gets us over, under, or around any obstacle to our objective.
Says Smith, "I'm always looking for new opportunities to grow and I am a strong believer in brilliance in the basics. The Marine Corps taught me to wake up each day hungry to conquer obstacles and continue driving forward to find new challenges, rather than sit and wait for things to happen."
Mentorship and Grit
Smith encountered difficulties in adjusting to civilian life -- he "missed the sense of purpose, camaraderie and excitement" that comes with being in the Corps. And without a clear sense of mission and purpose, he felt lost. His saving grace? Mentorship (and lots and lots of grit).
"Mentorship was probably the most important factor in my success," says Smith. "I was very lucky to have people reach out and help me apply to schools, find jobs and seek counseling. I quickly learned to apply far above what I felt qualified for and to ask for help often because lots of people want to help others succeed."