Russia has employed unmanned ground vehicles in combat formations for the first time, a significant step in the country's quest to develop an effective all-robot military unit, experts say.
Two remote-controlled vehicles were deployed during Russia's weeklong Zapad joint military exercises with Belarus, which are set to conclude Thursday.
Western leaders have viewed the exercises with concern because of their sheer size and proximity to NATO's eastern flank.
Both armored vehicles were used for fire support and reconnaissance work, Russia's Defense Ministry said in a statement released Monday.
The Uran-9, a tracked vehicle equipped with a 30 mm autocannon, a machine gun, anti-tank missiles and a flamethrower, destroyed mock enemy targets over 3 miles away, the statement said.
Meanwhile, the smaller Nerekhta unmanned ground vehicle, or UGV, fired at targets with a mounted machine gun and a grenade launcher in addition to performing tasks that would be dangerous for troops, such as delivering ammunition and equipment in combat.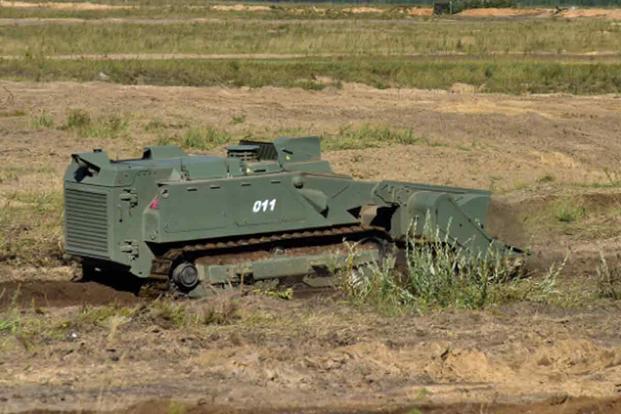 Russia has been working to improve its robot combat vehicle capability for years and previously tested a prototype of the Uran-9 on the battlefield in Syria. In April, Russia's Defense Ministry announced plans to establish a unit armed with strike robots.
The apparently successful use of UGVs during the Zapad exercises underscores Moscow's determination to improve its robotic capabilities, said Alexis Mrachek, a researcher specializing in Russian and Eurasian affairs at the Heritage Foundation, a Washington D.C.-based think tank.
"That fact is certainly significant because it means that Russia is continuing to experiment and seeking new ways to obtain greater lethality and survivability," Mrachek said. "We should expect that with continued experimentation they will perfect their equipment and tactics."
Another expert elaborated on the significance of the announcement.
The fact that Russian UGVs were performing various tactical roles during combat simulations is notable, said Samuel Bendett of the Center for a New American Security.
In addition to the fire support and reconnaissance work provided by the Uran-9 and the Nerekhta, other machines were being used for mine clearing and urban warfare, he said.  
"The Zapad drills are part of the effort to guide the Russian military in ways to better incorporate such systems in combined arms formations, where they have to function as part of different units and manned forces," Bendett said.
Russia has said as many as 200,000 military members have been taking part in the quadrennial drills, which have occurred in various locations in the country and also in Belarus, which shares borders with NATO members Poland and Lithuania.
The drills have a history of unnerving alliance officials, who are concerned that Moscow may use them to move undisclosed numbers of troops to NATO's backyard.
The United States remains a leader in the development of autonomous and robotic systems used for land, air and maritime operation, and the Russians have yet to match its expertise in the field.
Even so, it's important for Washington and its allies to take note of Russia's efforts to incorporate armed robots into its formations, said Peter W. Singer, a strategist at the New American Foundation.
"Just like with tanks and airplanes at roughly the same point last century, there will be all sorts of different approaches and doctrines for how to use robotics," Singer said in an email exchange. "Each nation's wargames give a hint of that future and should be watched for insights into what is to come."